Jacobs says completing work within additional £825m budget 'extremely challenging'
Jacobs has again warned that Crossrail might be forced to ask for more money on top of the £825m bailout it received last year in order to complete the scheme.
Costs on the job have ballooned from £3bn to their current £18.6bn with the railway, originally due to open nearly three years ago, set to be finally up and running in the first half of next year.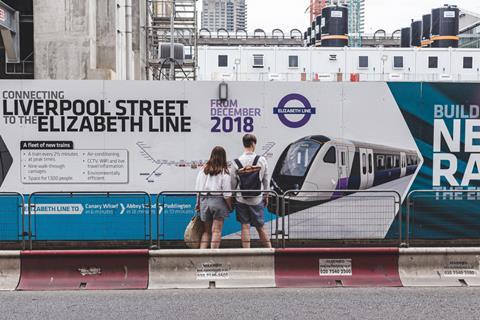 In its latest monthly report covering the four weeks up to 20 August, the US consultant, which acts as the government's eyes and ears on the project, said the scheme was up against it if it wanted to finish within the additional £825m of cash the government handed it last year.
The report said: "The cost-to-go workshops have confirmed that delivery within the £825m funding package is extremely challenging, and CRL (Crossrail Ltd) is focussed on measured judgements to contain costs."
Crossrail, which had originally wanted £1.1bn in extra funding, said it was hoping to avoid asking for more money in the future.
It said: "CRL has not stated that delivery within the £825m additional funding is achievable, however, [the] CRL executive continues to be committed to exploring a number of interventions that would minimise any additional funding required."
In the report, Crossrail also gave more details of when the job will finally open with a date next spring ringed.
It said: "The stage 3 passenger service opening date remains stable at [date redacted] May 2022, within the latter part of the declared opening window of the first half of 2022."
In his recent October update to the London Assembly's transport committee, Crossrail chief executive Mark Wild reiterated that the scheme's key central section would open in the first half of next year.
He said: "The next phase of the programme will be trial operations, which involves testing more than 150 real-time scenarios to ensure the readiness of the railway. There is currently reason to believe that trial operations could commence in late November."
Wild also reconfirmed that Bond Street was now at a stage of completion that could support trial running but its opening date, and whether it will open with the rest of the central section stations, is still up in the air.