NFB survey of SMEs, larger contractors and clients highlights problems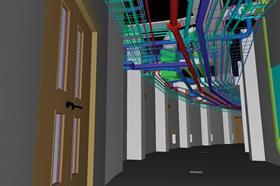 Contractors and clients are lagging in their adoption of building information modelling (BIM), a new survey by the National Federation of Builders (NFB) has found.
The NFB – which represents SME contractors – surveyed its members, larger contractors and clients earlier this year.
The NFB said its key findings were –
There is not a great deal of difference between the contracting sector and the client sector in terms of readiness or current use of BIM.
Over half of clients reported that they expected potential businesses that they contract with to have BIM as a core competency. Many, however, highlighted a need for themselves to understand BIM before they could expect potential contractors to have the competency. Both sectors perceive the potential benefits of BIM.
The overwhelming majority of clients responding to the survey said that they had not yet asked about BIM experience in PQQ or ITT when procuring suppliers.
When asked when they planned to adopt BIM processes on their projects, 30% were looking at the next three months; 40% within six months and almost 50% in the coming year. Overall, the majority (62%) would be adopting BIM within 2 years.