Firms have until middle of next month to register interest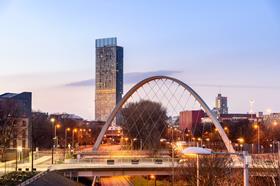 Contractors have been given until the middle of next month to express interest in a public sector framework for North-West England.
The North West Construction Hub wants no more than 16 candidates to bid for each of six lots on the three-year framework, with contractors having until 15 October to register their interest.
North West Construction Hub is the trading name of Manchester city council but its board contains representatives from public sector organisations across the region.
According to a contract notice published on the Official Journal, work may include delivery of modular and portable buildings as well construction on a wide range of social facilities.
The lots are divided by geographical area, with winners of lots 1-5 delivering individual construction projects worth £2-£5m each in Cumbria, Lancashire, Greater Manchester, Merseyside and Cheshire respectively.
Lot six is for individual construction projects worth £5-10m anywhere in the North West of England area.
The total value of work to be commissioned under the framework will be between £250m and £1bn but the value of individual lots is yet unknown as some of the projects will depend on funds from the European Union.
There will be an option for the framework agreement to be extended by an extra year.