Two sound stages to be built, with four more planned
Contractors are eyeing a £21.5m deal to build a pair of sound stages for a film studio in Belfast currently filming a Nicole Kidman movie.
The 16-month job for Belfast Harbour Commissioners will see the two steel framed sound stages added to the existing film Belfast Harbour studio complex on an 18 acre waterside site at Giant's Park in the Northern Irish capital.
The fully sound-proofed stages will provide a combined 157,000ft2 of production space, with the scheme also including a three storey 78,000ft2 office block and two workshop blocks providing a further 79,000ft2 of space.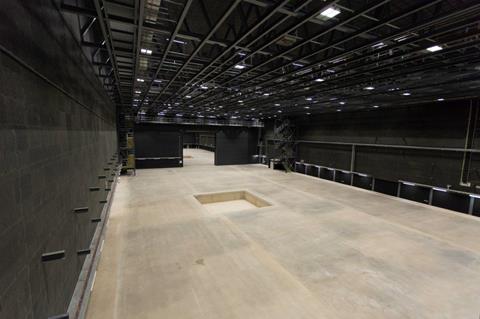 Construction is slated to start on site early next year and to be completed in 2022.
It is phase 2 of a £45m expansion for the studios which was given planning permission in July which will see six new facilities built.
The studio has said it would create the largest UK studio complex outside of the south-east of England with 346,000ft2 of production space in total.
Despite being given the go-ahead, the remaining four facilities have not yet been put out to tender, with a spokesperson for Belfast Harbour saying the studio was taking a "market-based" approach to the expansion.
The spokesperson said: "Although covid-19 has impacted the media sector internationally, production has recommenced in the existing studios and the level of enquiries leads us to believe that further Belfast Harbour Studios would meet current and future occupier requirements. We will continue to take a phased, market-based approach to the further development of the studio complex."
Productions filmed in the existing studio include two series of Krypton, a Superman prequel aired on the Syfy Channel. The Northman, a film starring Nicole Kidman, is currently being filmed in the studio.