Main contractor FCC Elliott facing £500,000 claim by design and engineering consultant Cundall over Olympic work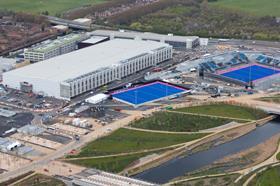 The main contractor fitting out the Olympic Broadcast Centre is facing a legal case over £500,000 in unpaid fees and costs from a subcontractor on the project.
Design and engineering consultant Cundall is claiming that main contractor FCC Elliott owes it £428,717 in unpaid fees for "delays, disruption, abortive and/or additional work" on the Olympic Broadcast Centre, as well as £126,734 in costs relating to its court claim.
It has also claimed that FCC withheld information about the construction value of the project making it impossible for Cundall to calculate its fees.
But FCC, a joint venture between Spanish contractor FCC and P Elliott, which went into administration last May, argues the move to adjudication is premature and has issued a counterclaim for the costs of handling the case.
FCC argues that Cundall's claim was made before the dispute had crystallised and FCC had not yet been given an opportunity to address the matter before it was referred to the RICS for adjudication.
The firms are working on fitting out the 52,000m2 of studio space and 29,000m2 of office space at the Olympic Broadcast Centre in preparation for the Games in July.
The case follows Building's revelation in April that Galliford Try is facing legal action from subcontractors looking to claim more than £11m as a result of problems on the 2012 athletes' village project.