As PM dashes to Brussels today, worries grow over materials being stuck in ports
Contractors have begun bracing themselves for inevitable delays to materials coming to sites from Europe – even if the UK reaches an eleventh-hour trade deal with the EU.
Boris Johnson will head to Brussels later today for talks this evening to try and rescue an agreement, just three weeks before the UK is finally due to leave the bloc.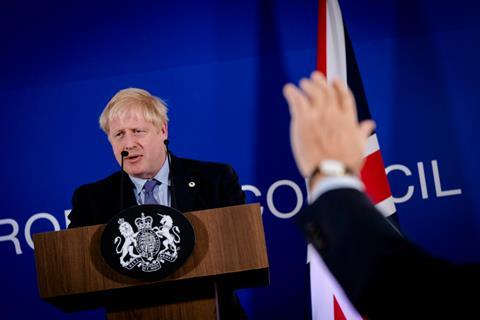 One contractor, who asked not to be named, said: "It's a disgrace to leave industry in the dark like this with just a few working days of the year left."
And the former head of the civil service Bob Kerslake, now the non-executive chairman of framework supplier Pagabo, added: "A deal is really important and the uncertainty and potential costs could have a material impact on how fast we are able to get on with major projects. There is a lot hanging on these last-minute negotiations."
Firms are now warning that jobs face getting bogged down from next month as stretched supply chains see stock held up at crowded ports.
Some have repeated warnings that a no-deal Brexit will see some materials hit with double-digit import taxes.
Bathroom products is one area particularly at risk from large-scale price hikes, while the shock of no-deal is set to delay the spending plans of private clients – already disrupted by the covid-19 pandemic – further into the new year.
Mace chief executive Mark Reynolds said the firm was looking at alternatives to so-called 'short crossings' and eyeing different routes from Europe to the UK. "[The issue of] materials is the one we need to track. There's bound to be some form of delays with materials."
And Wates group public sector director Steve Beechey said the firm had asked its supply chain to build up three months' worth of supplies to get round any hold-ups.
But he admitted: "The problem is the [port] crossings. Nobody really understands how it's going to work even if we get a deal. I think we'll see price increases."
Hauliers have been told to fill in more paperwork to meets customs checks but worries are growing incorrectly filled forms risk materials being stuck in ports.
Beechey added: "You see these signs about paperwork but what paperwork? Nobody knows how it will work. Ports is always going to be a problem.
"There's lot of projects on hold and I think a no-deal will knock confidence further and there will another quarter of delays."
But Bam chief executive James Wimpenny said the industry would use its experience of dealing with the covid pandemic to overcome problems.
"There is a bit of a worry over ports but I don't see it on the same scale as the past nine months. Is a shutdown of a factory worse than a no-deal Brexit?"
This week the Builders Merchants Federation raised concerns about products being caught up in log jams at ports ahead of Brexit.
Chief executive John Newcomb said concerns had been raised about access to materials including ironmongery, plumbing items, tools and natural stone.
He added: "There appears to be an increasing issue getting these products through ports, with some ships being stopped from landing and sent back to Rotterdam. Rather than taking a maximum of one week to unload, it is taking up to four weeks."
The UK's transition period from the EU formally ends on 31 December.