Carillion and Keepmoat among 17 firms working on ways to remove finance as a barrier to taking-up the scheme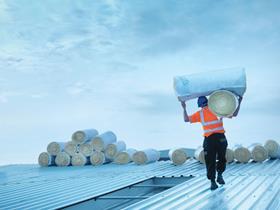 Contractors Carillion, Keepmoat and Willmott Dixon are among 17 firms appointed to a task group to investigate ways to tackle the high interest rate of the Green Deal.
The base interest rate for Green Deal loans from the Green Deal finance company is 6.96%, but when all costs are included this rises to between 8% and 10%.
The interest rate has been criticised as being a barrier to consumers taking up the scheme and making it less competitive than alternative finance options.
The rate, which is fixed for the duration of the loan, is considered quite competitive for an unsecured fixed loan, but many homeowners can get lower rates through their mortgage lender.
A lower interest rate would allow a home to receive more measures under the Green Deal's golden rule, which states the savings on the consumers energy bills should be more than the cost of repaying the loan.
The task group, convened by the UK Green Building Council, is set to make recommendations in January for ways to reduce the rate and improve communication about the interest rate to the public.
Christoph Harwood, partner at Marksman Consulting LLP and chair of the task group, said the it aimed to "help policy makers understand their options".
He added: "We are unlikely to come out with a silver bullet solution but what I hope we can do is inform the debate."
Richard Twinn, policy and public affairs officer at UK-GBC, said the cost of finance had been "repeatedly blamed" for the slow up-take of the Green Deal.
He added: "It is essential that we now shift the debate onto finding solutions so that we can make the Green Deal a success."
Task group membership
Adca Investments
Bank of America Merrill Lynch
Behaviour Change
Carillion
Consumer Futures
E.ON Energy Services
Ecology Building Society
Energy Saving Trust
Forum for the Future
Gentoo
Keepmoat
Marksman Consulting LLP
Saint-Gobain
Travis Perkins
Verco
Willmott Dixon
The Green Deal Finance Company (observer)