Cabinet Office minister Oliver Dowden orders firms to 'clean up act' in letter being sent out to thousands over next few days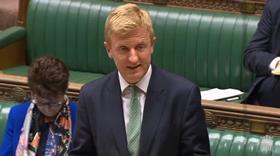 Building understands Interserve, Kier and Balfour Beatty are among thousands of government suppliers which have been told to pay on time or face a ban on winning more work.
In a sign the government is beginning to lose patience over contractors' payment records, more than 10,000 firms will begin receiving a letter from Cabinet Office minister Oliver Dowden over the next few days telling them they must pay 95% of invoices on private sector jobs within 60 days – or face the consequences.
Dowden (pictured) said: "From September, if government contractors are late with supplier payments, they could be prevented from winning public contracts until they clean up their act."
In his letter, seen by Building and published in full below, Dowden tells firms to shape up over paying their suppliers, warning: "I expect to see you meeting the required standards and making improvements if necessary."
Contractors by law must pay suppliers within 30 days on all public sector jobs.
Under rules set to start after summer, the government will demand data on firms' payment records as part of bids for public work worth more than £5m.
In the six months to 31 December 2018, Balfour Beatty and Kier only paid 82% of their invoices within 60 days – which includes invoices on public sector work.
Interserve, which derives 70% of its revenue from the public sector, paid 90% of all invoices within 60 days.
The government, which last year hauled in firms to "remind them" to pay suppliers on time, said it will take payment data from a firm's two previous six-month-long reporting periods to judge its payment history.
The letters follow chancellor Philip Hammond's suggestion last month that the government was ready to take late payment more seriously. He announced during the Spring Statement that contractors' audit committees would be expected to review data relating to payment terms and report on progress in their annual accounts.
In full: Oliver Dowden's letter to 'strategic suppliers'
I am writing to you today to remind you about new measures that I launched last year, following consultation, to support prompt payment across the UK. I want to ensure that you are prepared for the changes coming into force and are meeting the expected standards on payment performance and practice so that you are in a strong position when bidding for government business in the Autumn.
We support prompt, fair and effective payment in all businesses, and understand that it is particularly important for small and start-up companies, and Voluntary, Community and Social Enterprise (VCSE) organisations who may not have the reserves of larger companies.
As one of our strategic suppliers, it is vital that you pay your subcontractors on time to ensure that the benefits of prompt payment flow through supply chains. Your payment data will reflect how you are performing against this.
Any business you win under the Public Contracts Regulations (2015) will require payment terms of 30 days to be passed down the supply chain. As a signatory to the Prompt Payment Code, you have committed to paying your subcontractors on other contracts within a maximum of 60 days (this is met by paying 95% of invoices within this period) and to work towards 30 day payment terms as the norm.
On 29 November, I announced a new policy which will require bidders (during the selection process) to answer a series of questions about their supply chain management and tracking systems. This will incorporate providing details about payment practices, processes and performance including the percentage of invoices paid within 60 days. Suppliers who are unable to demonstrate that they have systems in place that are effective and ensure a fair and responsible approach to payment of their supply chain may be excluded from bidding.
This policy will be implemented from September 2019 in government contracts above £5m per annum. As part of the assessment departments will be looking back at your payment performance for the previous two 6 month reporting periods.
Your business's current performance will therefore be considered – and may impact your ability to win business. You will be aware that you are already required to publish your payment performance in accordance with the Reporting on Payment Practices and Performance Regulations (2017). These reports will be used to verify any response you provide as part of the selection process next Autumn. Your payment data will reflect how you are performing against this. Many of you are due to publish your next report by the end of July and I expect to see you meeting the required standards and making improvements if necessary.
I am therefore writing to urge you to:-
Review your published data at https://check-payment-practices.service.gov.uk/
Ensure that you are meeting the required standards (95% in 60 days)
If improvement is required, I recommend that you develop an action plan with timescales and milestones for making improvements and share this with your Crown Representative
If you have any concerns or questions surrounding this letter, please speak to your Crown Representative. My officials will keep me updated on your progress. I look forward to working with you all on this important initiative.
Oliver Dowden, Minister for Implementation, Cabinet Office