Planners ignore objections to grant permission for six-building town centre project
Planners have given the go-ahead for a controversial £250m mixed-used scheme in the centre of Maidenhead, labelled by one objector as being more at home "in a poor part of London".
Set to be built in the heart of Theresa May's parliamentary constituency the Landing scheme was designed by Studio Egret West – currently working on transforming the old EMI record factory in Hayes, Middlesex – and developed by Hub and backed by Norwegian investment group Smedvig.
The project features six blocks, ranging in height from seven to 16 storeys, containing 424 homes, plus retail, office and public space, car parking and landscaping.
Following earlier objections, the scheme's towers were reduced in height – the tallest down from 19 to 16 – but this still did not satisfy some local groups.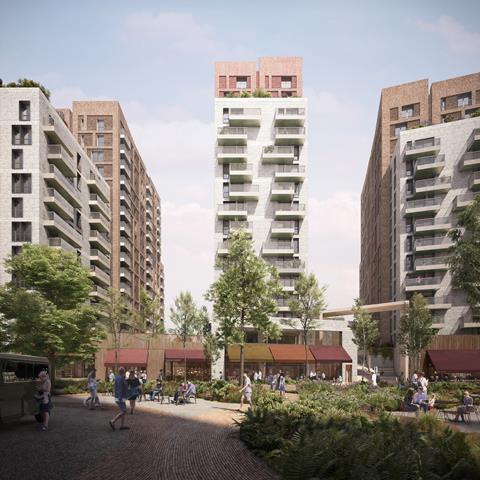 According to council records, the Maidenhead and Cox Green Neighbourhood Plan Steering Group wrote to Windsor and Maidenhead's planning department to complain that such a city scale development was "wholly inappropriate within the town of Maidenhead, the dominance of development over 50 metres will severely impact neighbouring properties and the wider streetscape".
And another local business slammed the development, which replaces an existing office scheme, suggesting it would be like an area of flats "you would expect to see in a poorer part of London".
Hub said it had engaged with the local community, seeing around 1,500 people giving their views of the scheme. The height of the towers is understood to have been reduced at the request of planners.
The scheme was originally submitted for planning back in February 2015, comprising offices and 225 flats. While that proposal had been granted planning it proved undeliverable due to the job's economic situation and plans were amended to include a larger residential element.
Steve Sanham, Hub's managing director, said the council's approval of the latest plans was a "fantastic decision" for Maidenhead.
"The Landing site has been subject to far too many false starts and delays. We are confident our scheme will bring a buzz back to the town centre and revitalise it in the way the people of Maidenhead have told us they want. We now look forward to getting on and delivering it."
Work is expected to start on the job early next year.
Other firms working on the project included design group AKT II, consultant Skelly & Couch and engineer Buro Happold.