TfL has admitted the delay is set to cost it £20m in revenue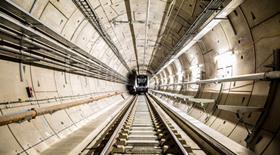 The cost of Crossrail's timeline blowout is still unknown, according to leaders behind the scheme.
Delays to the project, which are set to run for at least nine months, are expected to add considerable extra cost to the £15bn scheme on top of the £600m cash injection agreed by TfL and the Treasury in July.
Fronting the Greater London Assembly, transport commissioner Mike Brown yesterday conceded TfL and the Treasury, who are joint funding the project, were due to meet later in the day.
Brown said: "Any additional costs which may emerge – and we don't have certainty as to what those costs may be yet, as they're progress dependent – then of course we will make additional plans subject to talks with the Treasury this afternoon."
Brown also revealed that TfL will lose an anticipated £20m of revenue from extra journeys that would have been made once the Elizabeth line opened.
Discussing the root causes of the delay, Sir Terry Morgan, chairman of Crossrail, said: "Lots of technical problems have hit us. It's a combination of delays on construction and the complexity of testing the new software."
Crossrail chief exec Steve Wright told assembly members that he was unable to say whether delay to the opening of the Elizabeth line, which was originally due to open this year, would cause knock-on delays to the opening of the full Crossrail line, which was due in December 2019.
But Wright confirmed that Crossrail was working on an updated schedule to be published shortly, with phases four and five – extensions of the line to Shenfield in the East and Reading in the West respectively – only able to go ahead after phase three.
London mayor Sadiq Khan said he was "extremely frustrated, disappointed and angry at the delay" but was confident the project would still be an asset for London.
He added an electrical explosion at Pudding Mill Lane station in east London meant testing had to be pushed back following the failure of two voltage transformers caused by a design error.
"The electrical explosion at Pudding Mill Lane last year both delayed testing and illustrated the risks facing such a large-scale project.
"And of course because it's the last stage of the project there is no opportunity to catch up on any delays."