Firm says operating profit will be off by half from figure already revised down in August
Costain capped a grim 24 hours this morning with the contractor issuing its second profit warning in as many days.
Shares nosedived more than 15% on the news to 162p just a day after the firm said it would take a £8.9m hit on the sale of a golf and marina complex in Spain.
Now in a trading update, the contractor said an arbitration ruling about a row with the Welsh government over a road between Gilwern, near Abergavenny, and Brynmawr, near Ebbw Vale, called the A465 Heads of the Valleys (pictured), meant it had to slash estimated profit by more than half.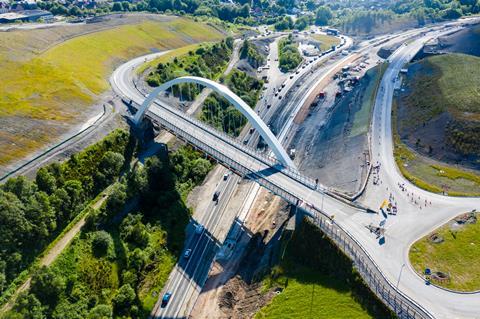 Announcing its interim results in August, the firm said that underlying operating profit for 2019 would be down, coming in at between £38m and £42m – meaning its full year figure at that stage would be off more than a quarter from last year's £52.5m.
But this morning, Costain said that number had been revised down even further to between £17m and £19m.
It said the hit to the year-end cash position would be "c£20m, with the net cash position being impacted by c£40m of cash currently withheld on the A465 contract". Chief executive Alex Vaughan (pictured), who only took over from former boss Andrew Wyllie in May but has already had to issue three profit warnings, called the news "disappointing".
An initial adjudication had found in Costain's favour but the firm said: "The specific matter has now been determined at arbitration. The arbitration award effectively splits the responsibility for the design information between both parties. This partially reverses the decision of the initial adjudication and is contrary to the legal advice received by the group concerning the relevant provisions of the A465 contract."
It added that it expected to complete work on the five mile road, which involves upgrading it from a single three-lane carriageway to a dual two-lane carriageway, in the first half of 2021.
Over the summer, it said problems on a legacy contract, delays to new work starting and the cancellation of one project, thought to be the M4 widening scheme which was pulled by the Welsh government in May costing the firm £500m-worth of work, meant pre-tax profit slumped 58% to £8.4m in the six months to June. Revenue during the period was down 22% to £599m.
In its update this morning the firm said its order book for 2019 was flat at £4.2bn – which includes £1.1bn worth of work on the HS2 railway, currently the subject of a government review.
In a trading update, also out this morning, Balfour Beatty said it was not including its HS2 work, which includes a scheme to build a new station at Old Oak Common in west London, in its order book.