Joint venture between Costain and Skanska to build two sections of the A14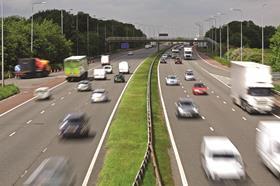 A joint venture between Costain and Skanska has won a £600m contract to build two sections of the A14 between Cambridge and Huntingdon.
The contract, awarded by Highways England, is designed to increase the A14's capacity and improve its reliability for motorists.
The Costain JV has secured two packages of work for the A14, stretching over 25 miles, connecting the A1 junction at Alconbury to the east coast mainline and the east coast mainline to Swavesey. Initial design work for the highway has already begun with construction expected to start by the end of 2016.
Andrew Wyllie CBE, Costain's chief executive, said: "The A14 is a strategically vital transport corridor in East Anglia and we are delighted to have been appointed to this major improvement project by Highways England.
"This appointment reflects our reputation for delivering solutions to national infrastructure needs in long-term, strategic partnerships with our customers."
The road will be open for traffic by 2020, before further works in Huntingdon get underway.