Arbitration ruling finds in favour of the Welsh government
A long running dispute between Costain and the Welsh government over problems affecting the construction of the A465 Heads of the Valley road has been resolved, with the contractor set to lose £45m as a result.
In a statement released today, Costain said: "The Welsh Government had escalated a specific matter under the dispute resolution mechanism in the contract relating to the responsibility for design information for a specific retaining wall and whether it qualified as a compensation event."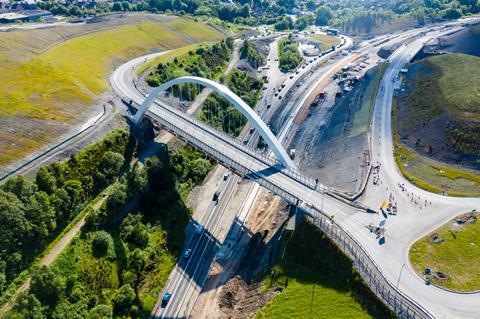 The contractor said it was informed of the final decision of the arbitrator yesterday, which "found that responsibility for the design information rests with Costain and, consequently, the additional costs associated with the building of the retaining wall is not a compensation event under the contract."
Costain is upgrading a five mile stretch of road from a single three-lane carriageway to a dual two-lane carriageway. The road runs between Gilwern, near Abergavenny, and Brynmawr, near Ebbw Vale, and is scheduled to be completed next year.
In a statement in 2011, announcing it had won a £150m contract to upgrade the road, Costain said: "The project will present significant engineering and environmental challenges."
Costain said it was "disappointed" by yesterday's arbitration ruling "which reverses the ruling of previous adjudication awards."
It is in "ongoing discussions with the Welsh Government to reach agreement on a final financial settlement and to seek recovery of costs under the Contract."
Despite this it said: "On the basis of the uncertainty of recovery of such costs following yesterday's arbitration award, and subject to reaching a final settlement, the group's half year results for the period to 30 June 2020 will include a charge to the income statement of £45m to adjust the revenue recognised based on the level of cash received to date under the Contract."
The contractor's half year results, which were delayed pending the final decision of the arbitrator, will now be released on 14 September.