Building control officer had 130 projects to keep track of and felt forced to make 'judgments' about whose work needed most focus
The local authority building control officer responsible for inspecting the refurbishment of Grenfell Tower has said austerity-driven staffing cuts at Kensington and Chelsea council ramped up his workload and stopped him from visiting construction sites as often as he wanted.
John Hoban told the Grenfell Tower Inquiry – probing the background to 2017's fire in which 72 lives were lost – that he had taken on the work of two other colleagues by the time he was tasked with inspecting work on the ill-fated refurbishment project.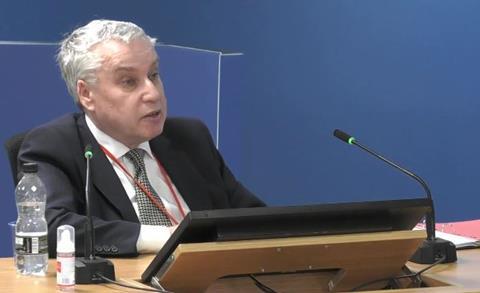 He said that following the death of another colleague he was responsible for 120-130 separate developments by 2016 – the year the Grenfell Tower refurbishment was signed off.
Hoban told Wednesday's session that an inevitable consequence of the increased workload, which followed a restructuring of his department in 2013, was that he could not get out to visit sites as much as he would have liked and had to seek some assurances about projects via email rather than in person.
"I wasn't visiting certain jobs," he said. "I was making judgments on who to visit and who to write to confirm things … the level of supervision, the standard of workmanship; whether you'd worked with particular people in the past and whether you considered that they were doing what they needed to do."
Asked about the reason for the restructuring and staff reductions, Hoban replied: "It was mainly to do with cuts, austerity cuts."
The inquiry subsequently heard that because Hoban had been involved with Grenfell refurbishment architect Studio E and early stage fire consultant Exova on the £40m Kensington Academy and Leisure Centre project – known as KALC – next to the tower, he knew and trusted the team.
"I had a confidence in the architects and the other professionals and Exova," he said. "I dealt with them and considered that they knew what they were doing."
Hoban said he was unaware that Studio E had never done a high-rise overcladding project before, or that Exova had not been retained as fire safety consultant when Rydon was awarded the design and build contract for the refurbishment in 2014.
"It was always my understanding that Exova were fully involved in the project," he said.
Hoban added: "I considered it was reasonable to expect that architects would know and understand Building Regulations."
The inquiry heard earlier in the day that Hoban quit his job as a senior building control surveyor at the west London council at the end of March 2017 because he did not feel able to do his job in the way he had been trained and felt the situation had been affecting his health. Hoban had worked as a building-control officer for more than three decades at that point.
Hoban told Wednesday's hearing that he had originally planned to inspect work at Grenfell on a monthly basis.
The role of building control
Inquiry barrister Richard Millett QC asked Hoban a range of questions about the role of a building control officer. Hoban agreed with the proposition that it was ultimately for those carrying out design and construction work to ensure compliance with Building Regulations.
He also agreed that the fact a building, or elements of it, had been "signed off" by building control did not represent "conclusive evidence" that Building Regulations had been complied with.
Millett said that project client Kensington and Chelsea Tenant Management Organisation, Studio E, main contractor Rydon and cladding contractor Harley Facades had all said they relied on building control to ensure that the Grenfell Tower refurbishment complied with Building Regulations.
"Did you yourself appreciate at the time of the Grenfell Tower refurbishment that the parties involved viewed building control in that way?" Millett asked. Hoban replied: "No."
Missing details
Also on Wednesday, the inquiry heard that the Grenfell Tower refurbishment had essentially been granted full planning permission despite a lack of clarity on the exact kind of cladding or insulation that would be used. Its compliance with Building Regulations was made a condition of the approval.
Inquiry chairman Sir Martin Moore-Bick heard asked Hoban what steps he would take to make sure such conditions were properly satisfied.
Hoban said he had requested drawings and details of what products would be used but had not received information before he saw what was being fitted on site.
"So the condition wasn't really a condition of satisfying you that the material was appropriate, it was a condition of using the appropriate material," Moore-Bick said. Hoban agreed that was the case.
He had earlier told the inquiry that "in hindsight" it would have been better to have requested full details of the specification for the façade works and insulation before full planning permission was granted, or to have rejected the Grenfell application.
However he said that in practice Kensington and Chelsea would routinely issue conditional approvals.
Hoban was also asked about an outline fire safety strategy for the project that was put together by Exova for project client KCTMO in 2013.
The strategy – written before any decisions about the new cladding system for Grenfell Tower were finalised – said the proposed changes "will have no adverse effect on the building in relation to fire spread". However it continued: "But this will be confirmed by an analysis in a future issue of this report."
Exova was not retained as fire consultant on the project after Rydon became the main contractor and the future issue of the report never materialised.
Millett asked whether – on the grounds that ensuring proposals complied with Building Regulations requirements for external walls to adequately resist the spread of fire – Hoban had chased Studio E for the updated version of the report that had been promised before planning permission was granted. Hoban said he did not think he had sought an updated report.
"At the end, there were a lot of outside influences going on," Hoban said. "I was having difficulty in dealing with things generally, due to family matters that were going on at that time."
The inquiry continues.