Government publishes regulations that could see councils that block development have their planning powers removed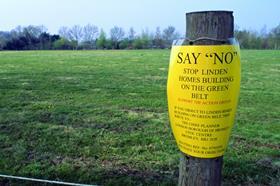 Local councils which see more than one in five of the planning applications that they turn down later approved on appeal could have their planning powers taken over by central government.
Regulations published yesterday by the Department for Communities and Local Government, which will come into force if major objections are not received within the next 40 days, state exactly how the department will decide to intervene by taking over, or "designating" local planning powers.
The new measures follow a pledge by communities secretary Eric Pickles in 2011 to take powers away from local authorities that fail to properly discharge their planning reponsibilities.
The move was designed to ensure that councils didn't take advantage of "localist" planning reforms to unfairly block development.
The first designations will be made in October this year according to the regulations, with decisions made once a year after that date.
The regulations state that data on local authorities will be assessed every quarter both on the speed and quality of their planning decisions. Councils will be at risk of designation if they fail to make a minimum of 30% of decisions within the statutory 13 week period, or if more than a fifth of refusals are later overturned on appeal.
The regulations have come in despite widespread opposition from councils to the reforms, with just under half of the respondents to the government's consultation saying the didn't agree with the proposed method of assessing performance, compared to just % in favour.