London tower builder saw turnover fall nearly a third last year
The cost of dealing with covid and huge losses on its 22 Bishopsgate contract sent Multiplex plunging further into the red last year with the firm racking up a pre-tax loss of more than £150m.
The firm had already flagged that its 2020 numbers would be worse than those for the previous 12 months when it published its delayed 2019 accounts at the start of the year.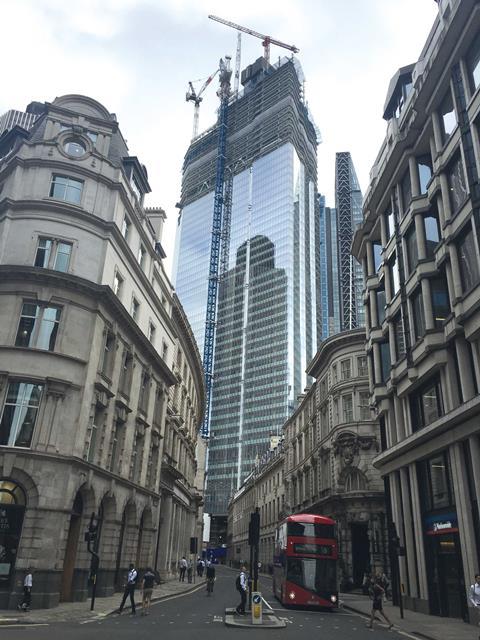 In those, Multiplex, which has started work on a £400m scheme to turn the former US embassy at London's Grosvenor Square into a luxury hotel for Qatari Diar, said it nosedived to a £14m pre-tax loss for the year to December 2019 from an £18m profit in 2018.
But its 2020 results, which have now been filed at Companies House, were much worse, with the firm sinking to a pre-tax loss of £158.5m on turnover down from £872m to £599m.
Multiplex is understood to have lost around £60m on its scheme to build 22 Bishopsgate with the firm booking some of the losses in its 2019 accounts although the bulk have been made in its 2020 numbers.
In a note accompanying its latest accounts, signed off by director Callum Tuckett, the firm said £149m of its overall losses were attributable to the pandemic which it said consisted of £82m of higher project costs and a further £67m of impairments from covid.
The firm, which has been owned by Canadian developer and asset manager Brookfield since 2007, said it had dealt with the losses without having to resort to external funding, ending the year with £26m of cash on its balance sheet.
It laid the blame for the fall in income squarely at the door of the pandemic with the firm's 15 projects shut down for several weeks in the wake of the first lockdown announced last March.
The firm said its schemes had still not got back up to 100% productivity levels, adding "all of our projects [are] operating at our 'new normal' productivity levels" – which are believed to be around 80%.
Multiplex, which is best known for building London towers and super-prime residential, was held up finishing the already loss-making 22 Bishopsgate by the onset of the covid-19 pandemic last spring, seeing productivity flatline for a time with the firm then having to fork out on a series of measures to enable work to resume. It was hit by problems caused by the social distancing restrictions required at the site, in particular the issue of getting hundreds of workers in lifts to the upper floors of the 278m-tall tower to complete work.
The firm, which reached practical completion on the tower late last year, is still on site carrying out snagging work with the construction value of its original contract thought to be around £620m.
Multiplex, which made around 120 people redundant last year in the wake of the pandemic, has around a dozen schemes currently on site including a job to turn the former Metropolitan Police headquarters into a mixed-use scheme called Broadway for developer Northacre.
It is also working on Native Land's £1bn Bankside Yards mixed-use scheme opposite One Blackfriars as well as its ongoing residential job at Chelsea Barracks for Qatari Diar and a new office scheme at Argyle Street in the middle of Glasgow which will be US bank JP Morgan's new home in the city.
Its backlog of construction work stands at around £1.2bn and includes a £200m deal to build a 35-storey tower at 1 Leadenhall in the Square Mile for Brookfield.