M&E specialist says impact of pandemic helped cut turnover by nearly half in second quarter
Turnover in its London stronghold slumped more than 40% as the impact of covid-19 and a restructuring programme helped send T Clarke crashing into the red in the first half.
The M&E specialist, which is the first of the quoted contractors to report its interim results for the six months to June, said it has spent £3m completing a restructuring which has seen 80 jobs go at the business, around 6% of its 1,400-strong workforce.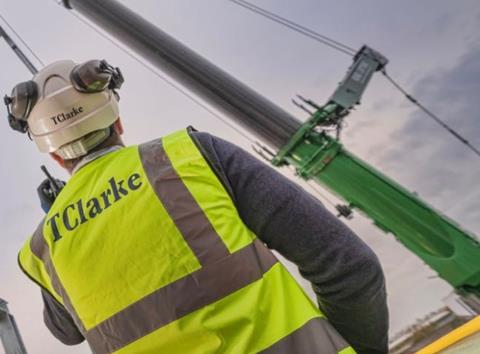 The firm said turnover in the first three months of this year was £70m but collapsed by nearly half to just £36m in the second quarter because of the impact of the pandemic.
Revenue from its biggest region, London, fell 42% to £58m during period, while workloads in the North, where it works from seven bases stretching from Liverpool up to Aberdeen on Scotland's north-east coast, fell 46% to £18.3m. This region was also hit by a £200,000 operating loss because of sites Scotland being shut longer following the imposition of a UK lockdown in the last week of March.
Workloads in the South, where it was completed work on the NHS Nightingale Hospital in Exeter built by Bam, fell less sharply but income was still down 20% to £29m.
But chief executive Mark Lawrence said the underlying business was sound and added: "Our order book is strong and we have no shortage of opportunities in Data Centres and Infrastructure. Since the beginning of April we have bid £600m of opportunities." Its order book at the half year was £402m from £370m.
He added the firm had improved its net cash position 108% to £7.5m and its banking facilities stand at £25m including a £15m revolving credit facility which has been extended until August 2024.
Overall turnover in the first half was down 38% to £106m with the firm slipping to a pre-tax loss of £1.5m from a £4.5m pre-tax profit last time. Underlying operating profit was down from £5m to £2.2m.
It paid its 2019 dividend of £3.65p per share last week but said it would only consider dividends this year once it was able to forecast its 2020 results with better certainty.