Start on sites falls 50% between April and September
The amount of new office space being built in the middle of London collapsed in the last six months as the impact of lockdown, jittery developers and staff working from home all helped put the brakes on schemes.
The latest London office crane survey from Deloitte showed just 2.6 million sq ft began in the period between April and September – a fall of 50% on the previous six months.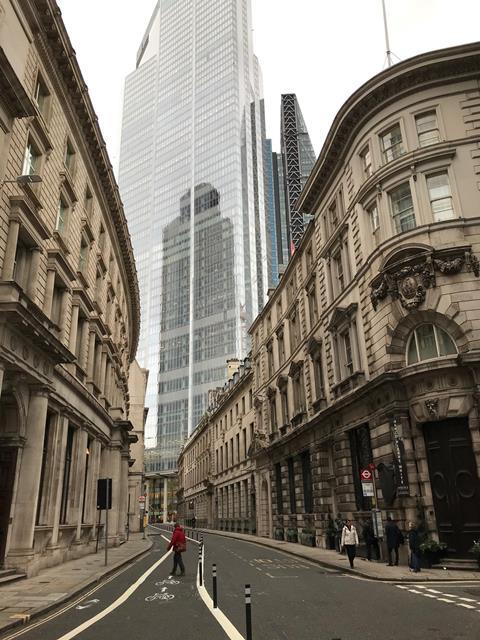 Deloitte said the central London market, which stretches from White City and the West End in the west, through to the Docklands and Stratford in the east via the dominant City of London, was "in a state of suspension as business occupiers pause to reflect on what the future of working will look like and how this might impact future workplace requirements".
New construction activity in the Square Mile fell by 60% to 1.2 million sq ft across 10 schemes, compared to the 2.8 million sq ft being built across 16 schemes in the previous period.
In all, 15.1 million sq ft is currently under construction with nearly half of that – 7.3 million sq ft – going on in the City of London.
But Deloitte said the 15.1 million sq ft figure also included over 3 million sq ft which had been due to complete during the period but was delayed because of the impact of the first lockdown in March
Mike Cracknell, director at Deloitte Real Estate, said: "Our data reveals that 3.3 million sq ft of office construction was not completed as scheduled between April and September and remains under construction. Had these projects completed on time, the total volume under construction would be almost a quarter lower."
The largest new start during the period was Skanska's 20 Ropemaker, a £240m mixed-use scheme for Old Park Lane Management. The scheme, which has been drawn up by Make Architects, is being project managed by CO-RE and signed up Linklaters as its anchor tenant in February this year with the law firm set to make the block its new London headquarters when the job completes in 2023.
The London office slowdown is being blamed on anxious tenants who have either postponed or pulled out of office deals with 88% of landlords saying homeworking will reduce demand for office space in the future by between 10% and 20%.
Cracknell said: "Of the developers we surveyed, a clear majority – 85% – pointed to weak tenant demand as the major obstacle to starting any new development. Until there is more clarity about occupiers' office plans, developers will hesitate to embark on new projects, particularly speculative ones."
He added that as new build work wanes, refurbishment was on the rise. The survey found that more than two thirds of the new construction starts involved an extensive upgrade of existing office stock across 28 separate projects. "Developers are looking to upgrade and futureproof their offices in a market where occupational demand is increasingly discerning," Cracknell said.
The survey also said office workers would like to spend half of their week working from home in the long term but said offices would still remain key for companies.
It added: "The office building will become a focal point for the business, where interaction with new and existing clients can take place. It is also likely to become a space to promote and support the wellbeing of employees, many of whom have faced isolation during the lockdown period as well as challenging working conditions. The office space will be intended to drive employee creativity and innovation and will be essential to attracting talent in the future."
The so-called TMT sector – technology, media and telecoms – accounted for 44% of all new pre-lets between April and September with financial services, which over the past decade has been reducing the amount of office space it takes up, accounting for 20% of new pre-lets during the same period.