Firm says 2020 results will be down by as much as 40% on last year's figures
The impact of covid-19 sent Morgan Sindall to its worst set of figures for five years with the firm's pre-tax profit slumping more than 60% in the half year to June.
The firm has posted improved profit every year since racking up nearly £15m of losses in 2015 when it was hobbled by problems at two legacy Ministry of Defence contracts at the Faslane naval base in Scotland that came with its deal to buy Amec's construction arm in 2007.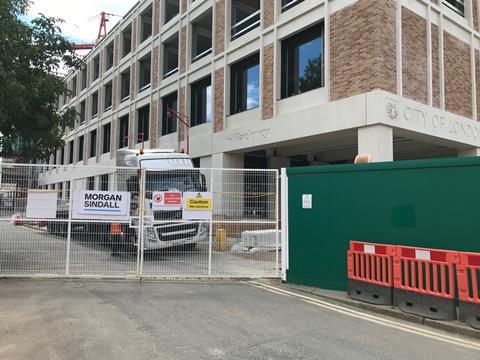 But coronavirus has put a halt to the run with pre-tax profit plunging 62% to £13.6m on turnover down 4% to £1.4bn.
And the firm said full-year profit would be down as well, to between £50m and £60m – a drop of between 30% and 40% on last year's £88.6m. Despite this, chief executive John Morgan said the pandemic would not see it change course. "Our proven strategy remains the same, based on organic growth and operational improvement."
It said revenue in the first quarter was up 17% on the previous year but the lockdown introduced on 23 March decimated second quarter income which fell 23% with turnover in April, the first full month of lockdown, tumbling by 35%.
The firm said it had furloughed 1,900 of its 6,700 staff, claiming more than £9m from the government initiative by the end of June, with around 200 staff still on furlough at the start of this month. But it said it planned to repay the money in the second half because its "financial position has remained robust and resilient throughout the period".
Morgan Sindall, which is building a new £98m secondary school and leisure centre (pictured) in Hackney, east London, for the local council, said 31% of its construction sites were closed at the peak of lockdown in April, adding that all were now open with productivity standing at 95% of pre-covid levels by the end of July.
It said it was contractually entitled to 'time and costs' as a result of the closures and delays to programmes for approximately 45% of its contracts. For the other 55%, it said the contractual entitlement was for 'time' only, with any additional costs, such as demobilising and remobilising jobs, the firm's responsibility.
The firm said 61% of its infrastructure sites, which include its aviation and nuclear work, were shut at the peak of lockdown but 93% had opened by the end of June with productivity around 90% by the end of July. It warned that it expected "minimal" work at Heathrow Airport for the rest of this year and 2021.
Turnover at its construction and infrastructure business, its biggest, was up 16% to £789m but operating profit was down 17% to £11.5m.
More than half its fit-out jobs were closed during the height of lockdown with jobs in the North and Scotland hardest hit where 92% of projects shut during the peak. But it said people working from home meant it was able to accelerate work because of empty offices and flexible working hours.
Fit-out, which carries out an average sized job of £2m taking 12 weeks to complete, saw revenue fall 22% to £317m with operating profit down 34% to £10.9m. It said all sites were now open, operating at 95% productivity.
The firm's partnership housing business, which includes its Lovell brand, saw revenue drop 31% to £165m with operating profit down 53% to £3m.
Earlier this year, Morgan said the division could eclipse fit-out as the firm's biggest profit maker over the next half decade. It said all its sites were now open, having seen 93% of them close during lockdown, with jobs running at 95% productivity by the end of last month.
Net cash at the end of June improved £32m to £146m with average daily net cash increasing to £153m from £123m. The firm said it would not be making an interim dividend payment.