Project now not expected to complete until 2026
The covid-19 pandemic is being blamed for delays of up to six months and a £500m price hike at Hinkley Point C.
According to EDF, the French energy giant behind the project, the scheme has fallen half a year behind schedule because of restrictions imposed by the pandemic.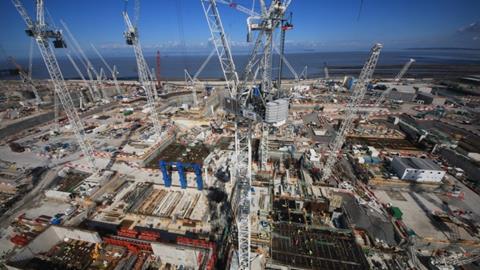 Stuart Crooks, Hinkley Point C managing director, said when the pandemic began the team running the scheme had postponed some work to allow for social distancing on site.
He said: "The aim was to then bring additional resources in to help catch up that time but 10 months on it's clear the pandemic is still in full force. Of course, with reduced people on site that has eaten away at the opportunity to recover the lost time from 2020.
"So far we have lost around three months of schedule time and we could lose another three months in 2021 assuming the conditions allow us to ramp back up the resources following Easter."
Crookes said that cost increases were par for the course given the schedule increase, with EDF confirming the project is now expected to cost between £22bn to £23bn. Before the pandemic it was priced between £21.5bn and £22.5bn.
> Analysis: Why have costs gone up at Hinkley Point C?
This is the second cost increase on the project, with EDF saying that construction costs had climbed by up to £2.9bn in September 2019.
But Crookes was positive about what the construction team on the project had been able to achieve, saying it had hit 18 of its 20 milestones last year with the remaining two "not far behind".