Surveyors flag divide between public's building-preservation expectations and industry skills gaps
Low take-up of key building-preservation careers could hamper the British public's desire to see more historic buildings saved for the future, the RICS has warned.
The professional body said a survey it commissioned found 89% of Britons believed it was important to preserve historic buildings but similarly high proportions had no idea of important jobs related to building preservation.
It said the YouGov survey had revealed that 83% of respondents did not know what a historic building surveyor did, while 80% did not know what a thatcher's job entailed.
The survey found that understanding of core craft roles was even lower among 18-24 year-olds, with 90% unable to describe the job of a stonemason, and 84% unsure of a glassblower's work.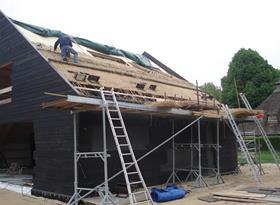 RICS managing director Matthew Howell said the findings came at a time when the built environment sector was in the midst of a skills shortage with the proportion of professionals reporting a skills gap in the construction sector increasing from 2% in 2012 to 43% last year.
"It's fantastic to see that so many people care about our historic buildings, especially young people," he said.
"However, without a pipeline of talent developing expertise in these specialist areas, landmarks could be left in ruin."
Howell was speaking ahead of the final episode of TV show Great British Buildings: Restoration of the Year, which has followed RICS professionals judging the UK's best restoration projects of 2017.
"The government and industry bodies must continue to work together and raise awareness of the wide-range of opportunities available in the industry and create more routes into the sector for young people," he said.
The RICS survey found that 42% of respondents believed that preserving the nation's built heritage was the job of the government, with 16% answering "industry organisations" and 14% "the general public".
Regionally, the survey of just over 2,000 people found those in the West Midlands had a "particularly strong" appreciation for historic buildings.