Policy of supporting homebuyers branded 'absolutely insane' as questions asked if it will allow homesowners to buy additional homes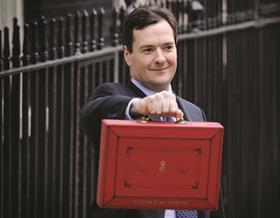 Chancellor George Osborne's £130bn plan to offer home buyers help with their mortgages under an expansion of the existing NewBuy scheme has been criticised as "absolutely insane" by economists.
The move, announced in yesterday's Budget and which Osborne dubbed "Help to Buy: mortgage guarantee", has been given a guarded welcome by housebuilders. The guarantee will be used to support purchases of all homes, including second-hand homes, rather than just new-build houses as under the NewBuy scheme.
Housebuilders are concerned this may not provide an immediate boost to new homes sales, and economists have raised fears about the impact upon house prices, which are already seen as inflated.
Critics also questioned if the scheme would allow homeowners to buy a second home, in addition to their main home. The current NewBuy scheme does allow second-home buyers to purchase a new home - so called second steppers - but only if they are selling their existing home.
This morning on BBC's Radio 4 Today programme Osborne did not rule out the possibility of homeowners using the scheme to buy adidtional homes, but said the government was "consulting on the details".
He said: "The mortgage guarantee, this is a big new step for the UK, and we are going to consult on the details. The mortgage market, as you know, is an extremely complex thing. The intention of the scheme is absolutely clear – it is for people who want to get their first home, or people who have a home and want to move to a bigger home because they've perhaps got a bigger family. We're working with the industry to get a scheme that works."
Osborne defended the decision to invest in a housing Help to Buy scheme, rather than spending money on building new and social homes.
He told the Today programme: "It is a big intervention in our housing market. We wouldn't be doing it if our mortgage market was properly functioning. But it is not properly functioning, because people listening to this programme can't afford the kind of 25-30% deposits that are being asked.
"I don't think the solution to our housing situation is simply to build many, many more social homes. We also need to help people who want to own their own home, or indeed help people who want to build homes for private rent."
Yesterday, following the Budget, housing minister Mark Prisk said the mortgage guarantee was aimed at helping "people struggling to get the deposits together to buy a new home".
He said: "The point about 'Help-to-Buy' is to make sure that home buyers and not just first-time buyers are able to look at those properties that they simply can't afford. It is a much larger scheme and a scheme that should lever in about £130bn of mortgages in to the housing market. It could have the chance to kick start demand."
Erik Britten, director at Fathom Consulting, told the Times the policy was "absolutely insane". He said: "If you had to invent a single policy that had a good chance of making the situation worse it would be the one he [Osborne] has chosen – subsidising high loan-to-value mortgages to risky house-holds. They are building a sub-prime mortgage sector just as they did in the US. We all know how that plays out."
In its editorial the paper said Osborne's move was "a bad precedent" because it saw the government "supporting asset prices rather than allowing them to find a market-clearing level."
Simon Rawlinson, head of strategic research at consultant EC Harris, said: "It's a whole market unblocker, helping the second movers. But my worry as an economist is it bakes in a generational over-valuation of house prices.
"In the US since the crunch we've seen house prices fall sharply, but here we've fudged the re-balancing of the market. And this doesn't allow that re-balancing to happen."
However, yesterdays Budget statement saw a raft of measures which will help housebuilders, including a further £3.5bn towards the government's FirstBuy scheme. Shares in housebuilders rose sharply on the news, with Barratt, Taylor Wimpey, Crest Nicholson, Bellway, Persimmon and Redrow all reporting increases of over 4%. Taylor Wimpey was the biggest riser recording a 6.5% share price increase.
Mike Farley, chief executive of Persimmon, said: "Extension [of FirstBuy] gives the industry the long term certainty it needs. Help to Buy will be particularly helpful to capital constrained small and medium-sized housebuilders, providing a boost to sales and build rates, which should be good news for jobs and economic growth."