Taxpayers' money is being well used on London's Crossrail programme, according to a new report by the National Audit Office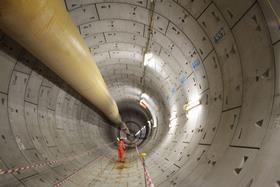 The National Audit Office (NAO) said the under-construction line crossing London west to east will "achieve value for money" if progress is maintained and risks continue to be well managed.
The NAO added that the strategic need for Crossrail had "become clearer over time" due to increased population and employment growth and Crossrail's benefits wwill outweigh its costs.
About half of the infrastructure work is now complete. Progress is just behind schedule, but the NAO said Crossrail Limited had taken steps to make up time and was "confident" of hitting its December 2019 opening date.
Joint sponsors the Department for Transport and Transport for London have established the £14.8bn funding package for the works, with a combination of direct grant funding from both bodies, including £5bn from the department, and borrowing by Network Rail and Transport for London.
A rise in London business rates has also contributed to the line costs, but the department has not secured all the private sector contributions it hope for, the NAO said.
Amyas Morse, head of the National Audit Office, said: "The sponsors and Crossrail Limited have so far done well to protect taxpayers' interests, by taking early action to stop costs escalating and, during construction, tightly managing the programme.
"There is still a long way to go and the Department must continue to manage risks to protect its investment in Crossrail."