Railway will need another £2bn to complete as chief exec says 'there is still a huge amount to do'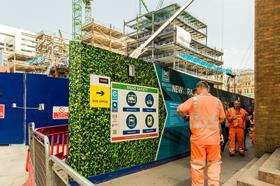 Crossrail will cost another £2bn to finish as the railway's new chief executive said he had no idea when the scheme would be finished because there is so much work left to complete.
The news comes as mayor of London Sadiq Khan, the Greater London Authority (GLA), and Transport for London (TfL) confirmed a bailout with the government which will see the GLA foot extra costs for the scheme's completion.
In a statement published today, a review by KPMG into Crossrail Ltd's finances said between £1.6bn and £2bn was needed to complete the work.
The joint sponsors for Crossrail, TfL and the Department for Transport (DfT), said these figures included the £300m already contributed by the DfT and TfL in July – leaving the project up to £1.7bn short.
Khan pointed the finger of blame for the mess at Crossrail's former management which last week saw Sir Terry Morgan step down from both his roles as chairman of Crossrail and the HS2 railway, which will link London with Birmingham.
The mayor added: "It has been increasingly clear that the previous Crossrail Ltd leadership painted a far too optimistic picture of the project's status."
Mark Wild, who took up the chief executive post last month replacing Simon Wright, who was in the role for just eight months, said the already announced delay to the £15.4bn railway would now go out even further.
It had already been pushed back until next autumn but Wild admitted today: "It is evident that there is a huge amount still to do. Stations are in varying stages of completion and we need time to test the complex railway systems. This means that I cannot at this stage commit to an autumn 2019 opening date.
"My team and I are working to establish a robust and deliverable schedule in order to give Londoners a credible plan to open the railway and provide a safe and reliable service. Once that work is completed, we will then be in a position to confirm a new opening date."
The GLA will borrow up to £1.3bn from the DfT and will repay this loan from the existing business rate supplement and mayoral community infrastructure levy.
The GLA will also provide a £100m cash contribution, taking its total contribution to £1.4bn which it will provide as a grant to TfL for the Crossrail project.
Khan and the transport secretary Chris Grayling have also confirmed that Tony Meggs will replace Sir Terry Morgan as the chair of Crossrail.
Meggs, who will step down from his role as chief executive of the Infrastructure and Projects Authority, will also be bolstered by the appointment of former MP Nick Raynsford as deputy chair.
Khan also said he had ordered the release of all Crossrail board minutes in the last five years "to provide transparency to Londoners on their decision making".
Morgan's resignation came after reports leaked to the media revealed transport secretary Chris Grayling and chancellor Philip Hammond had been lobbying for his removal.
Morgan, who was appointed by Grayling to be the chair of HS2 in July, was chairman of Crossrail Ltd for almost a decade. He has been replaced at HS2 by former Atkins chair Allan Cook.