Analysis shows workers relocating from other parts of the country to work on the infrastructure project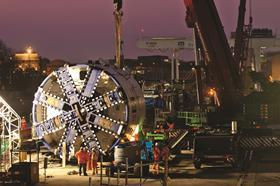 Crossrail's demand for skilled workers has added to skills shortages in other parts of the UK, according to analysis from specialist recruiter Randstad.
The firm found more than a quarter (28.3%) of those starting Crossrail-connected work in the London area are originally from areas more than 30 miles away from the project, in an analysis of over 40,000 individual construction and engineering jobs across the UK, including more than 150 different Crossrail-related job-titles.
It also found that, of these workers, more than half have taken up Crossrail jobs 50 miles from their home address at the time – while just under 5% of Crossrail-capable workers have moved 100 miles or more.
This represents 4,000 workers commuting or relocating more than 30 miles towards the London area, and 2,100 originally coming from over 50 miles away – out of the total of 14,000 estimated to have worked on Crossrail since the start of the project in May 2009.
Owen Goodhead, managing director of Randstad Construction, Property and Engineering, said: "Employers want the right person for the right job – absolutely the correct approach – but this is unleashing a spiral of competition.
"Skills shortages are here to stay for the foreseeable future, and candidates looking for construction and engineering jobs are benefitting."
He added: "The downside is in local areas at the other end of this skills vacuum. Crossrail will revolutionise the daily commute for thousands.
"But the people creating this engineering marvel have their own stories of relocation and long commutes – and their home towns will tell the story of a skills exodus."