Talks underway to get other projects back on site
Crossrail has managed to hand over its first central London station despite the covid-19 lockdown.
Custom House (pictured), which was built by Laing O'Rourke, was due to be handed over to Transport for London in October last year but fire alarm control panels that did not meet the standards required delayed the process.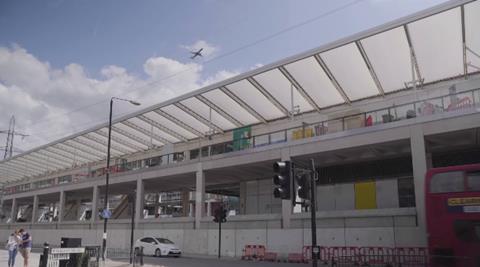 Now the team in charge of the £18bn railway has revealed that despite stopping the vast majority of work on its sites on 24 March it managed to complete the east London project last month.
A spokesperson for Crossrail has also confirmed that the organisation was working with its tier 1 suppliers to come up with a plan for getting work on site restarted.
> Coronavirus sees Crossrail boss bracing himself for further delays
He said: "Crossrail Ltd is developing a detailed remobilisation plan with its contractors to enable physical works at stations to get back up and running as soon as the current rules start to be eased.
"The timing for the recommencement of physical activity on Crossrail project sites continues to be informed by the latest guidance from the government and Public Health England and will prioritise the safety of both our staff and the wider community."
The Costain/Skanska team is understood to have begun remobilising at Bond Street station.
Crossrail also confirmed that essential and business critical work has continued across the programme supported by those working remotely.
The spokesperson said: "The focus for everyone on Crossrail is progressing programme activity that supports our entry into intensive operational testing, known as trial running, at the earliest opportunity."
A number of central section stations have now been certified as ready for trial running.