Custom House was due to be handed to Rail for London this month
Crossrail's plans to get stations ready have been dealt a blow with handover of the project's first station delayed by a faulty fire alarm control panel.
The team in charge of the £17.8bn railway is planning to handover all shafts, portals and stations to infrastructure managers London Underground and Rail for London to maintain ahead of trial running starting in February next year.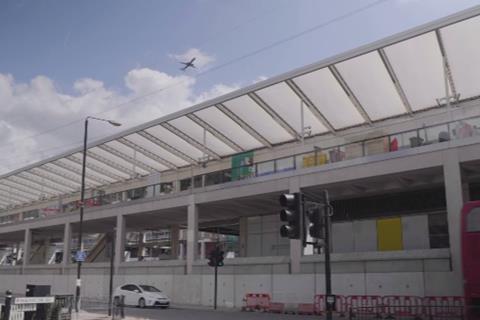 But a fire alarm control panel that does not meet the standards required for a railway has caused a problem at the first hurdle, with handover of Custom House (pictured) now delayed.
The east London station, built by Laing O'Rourke and designed by Allies and Morrison, was due to be handed to Rail for London, who will be responsible for all Crossrail stations that are not part of the Underground network, by the end of the month.
But Crossrail chief executive Mark Wild has now revealed this will not take place.
The contractor achieved "substantial demobilisation" of its workforce on the project on 21 December last year.
Wild said: "Custom House station was due to be handed over later this month but had [a] fire alarm control panel that needed replacing.
"As it is one of the learning handovers we made it a priority and the new panel has already been installed and begun testing."
Wild did not say when he expected Custom House to be transferred.
The comments came in his October update to London Assembly transport committee chair Florence Eshalomi, where he revealed Crossrail was now replacing 31 of the faulty panels across the rest of the line.
The update also revealed that work to complete the central tunnels was ongoing, with fit-out and testing expected to be finished by January next year.