Public Accounts Committee says entire line may not be ready until spring 2022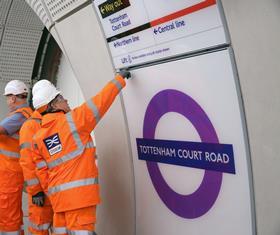 Londoners may not be able to use Crossrail in its entirety until 2022, MPs have warned.
In its latest report on the problem-plagued project, the Public Accounts Committee (PAC) said there are still significant risks which could further delay the start of services.
Services between Shenfield in the east and Heathrow and Paddington in the west were due to be up and running by the end of this year.
The report said: "Crossrail Ltd now plans to open the central section between October 2020 and March 2021 rather than December 2018 as originally planned.
"TfL's fare revenue will not increase significantly until the full railway opens, which could now be as late as spring 2022."
But the MPs said that the likelihood of meeting even these revised windows was "still uncertain and there remain risks to manage".
The committee also said it had concerns about whether, after years of delays, motivating and incentivising contractors to prioritise Crossrail would become increasingly difficult.
To allay these concerns the PAC, which is chaired by Labour MP Meg Hiller, recommended Crossrail supply the committee with a new date "as soon as they know when they expect the full railway to open".
MPs said the Department for Transport (DfT) needed to investigate whether its oversight of its delivery bodies, which include Crossrail Ltd, provided it with "appropriate accountability and governance arrangements over the life of programmes".
The investigation found that it was "unacceptable that the [transport] department devolved so much accountability for taxpayers' money" to Crossrail's management.
The report added: "The department has repeatedly blamed the Crossrail Ltd board and executive and the overall 'system' of management and governance for the failings of the programme.
"However, the department is ultimately responsible for the successful delivery of the programme and ensuring that taxpayers' money is being spent wisely."
It said the DfT, as one of the project's sponsors, had played a "leading role" in establishing the arrangements which had given Crossrail "an extreme version of autonomy".
A DfT spokesperson said: "The department consistently challenged the leadership of Crossrail Ltd on the delivery of the project.
"When problems became clear the department acted swiftly and effectively, changing the leadership of the board and strengthening governance structures." Towards the end of last year, Mark Wild was brought in as chief executive while Tony Meggs replaced Terry Morgan as chairman.
The DfT said it, and co-sponsor Transport for London, would continue to "scrutinise progress" to ensure the railway was opened as soon as possible.