Bond Street station now costing £660m – after originally being budgeted at £111m
Crossrail still does not have enough money to finish the job despite being handed nearly £3bn in government bailouts with Bond Street station now expected to be six times over its original budget.
In a progress report on the scheme published today, the National Audit Office said Crossrail needed to find more than £100m in missing money – despite being handed a further £825m last December by the Department for Transport.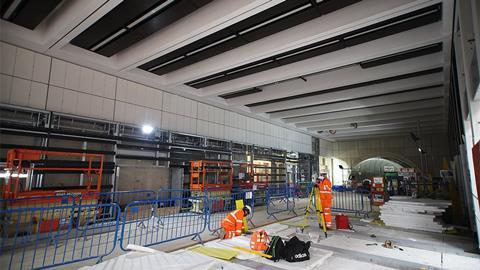 It had already been handed an initial £2bn in December 2018 when a new management team, led by chief executive Mark Wild, concluded it didn't have enough money to complete the work left.
But in its report today, Parliament's spending watchdog said: "The latest cost estimate of £18.9bn at May 2021 exceeds the available funding package by £120m."
Crossrail had originally said last August that it wanted an extra £800m to £1.1bn to finish the job off.
The NAO's report also revealed that costs to build Bond Street station have rocketed from an initial £111m at contract award more than eight years ago to a predicted £660m in March 2021, a rise of nearly 500%.
Crossrail had said in December 2018, when the scheme was originally due to open, that the station, which was being built by a Costain/Skanska joint venture before the team left the job last summer to be replaced by Engie, would cost £395m.
>> Analysis: Crossrail progress report in figures
>> Exclusive: Mark Wild interview: why Crossrail will be worth the wait
Another station being built by the Costain/Skanska team, Paddington, has seen its cost increase by £111m between December 2018 and March 2021 to £649m.
Whitechapel station, being built by a Balfour Beatty-led team, saw costs increase by £184m to £831m during the same period.
Meanwhile, costs for track, overhead line equipment and logistics jumped £234m to nearly £1.2bn during the period.
The report also said the covid-19 pandemic had added further costs and delays but praised Crossrail for taking the opportunity to improve its planning of remaining work.
The NAO also said that a revised schedule and budget agreed for the project in April 2019 was "unachievable because the programme was further from being complete than Crossrail Ltd and the programme's sponsors understood".
The NAO said: "Crossrail Ltd estimates that £228m of the increase in cost since April 2019 is a direct result of factors relating to covid-19.
"In response to the delays and the need to make workspaces safe, it worked closely with contractors to plan and resequenced remaining work. Between August 2020 and April 2021, contractors met around 90% of milestones."
NAO head Gareth Davies said: "There are now encouraging signs that Crossrail is in a more stable position. However, it will require further funding to complete and there are still significant risks that must be managed as the Elizabeth line undergoes operational testing.
"As the Elizabeth line nears the start of services in 2022, TfL and government must think through how to realise the benefits of the railway in order to maximise the return on almost £19 billion of investment."
Meg Hillier, chair of the Public Accounts Committee, said government needed to learn the lessons from Crossrail to help mitigate similar overruns on other large-scale schemes.
Responding to the report Crossrail chief executive Mark Wild said while the expected cost to finish was above available funding it was unchanged from last year's estimates.
He said: "The forecast cost of completing the project remains unchanged at £18.9bn.
"We are doing everything we can to complete the Elizabeth line as quickly as possible, but there are no short-cuts to delivering this hugely complex railway. The Elizabeth line must be completed to the highest safety and quality standards."