Deal aiming to build 30 schools a year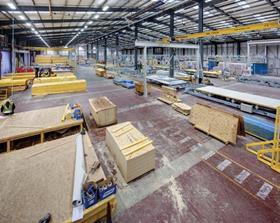 The Department for Education has launched a £3bn framework to build secondary and primary schools using offsite construction.
In a contract notice published on the Official Journal, the Department for Education (DfE) said the framework would last four years.
The framework has been split into two lots, based on the size of the project, with the department looking to appoint up to five contractors to each.
In its notice, the DfE said the framework would "cultivate innovation and modernise the industry by increasing the adoption of modern methods of construction and offsite production in the market".
Lot 1, which is worth £2bn, will cover secondary schools and blocks across England with an internal area of more than 6,000m2. The expected pipeline of work in this lot will be 15 schools a year, the DfE added.
It said it may also use those who are appointed to Lot 1 to build batches of primary schools.
These will be covered in the second, £1bn lot which will also include secondary blocks with an internal area between 750m2 and 6,000m2 throughout England. The average number of schemes let in this lot will also be 15 a year.
Bidders have been told they can submit tenders for both lots but will only be successful in one.
Contractors have until 6 August to register their interest.