New products to be launched next month ahead of £2bn education framework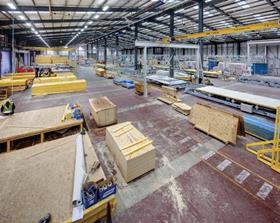 Off-site products set to be launched next month will remove the need for main contractors in the construction of new schools, according to the man charged with advising the government on the uptake of modern methods of construction.
Richard Crosby, director of consultant Blacc, says the use of the new technologies being developed by a consortium led by his firm could make the traditional role of main contractors redundant in the construction of schools.
The new products being developed by the Seismic venture, which also includes the Manufacturing Technology Centre, consultant Bryden Wood and off-site contractors Elliott and The McAvoy Group, include a digital app and standardised frames and connectors to boost connectivity in school-building.
The Seismic consortium receives around £730,000 from government R&D arm Innovate UK.
Crosby said: "Normally a school has around 1,600 components but we believe we can reduce this to around 600 components. This means half the labour force and potentially half the Co2 and cost."
He said this wipes out the need for a main contractor as building a school will be just about "putting together building blocks".
The app will work as a configurator allowing any user to design school structures for a site using the standardised components and in compliance with DfE specification for classrooms.
As well as requiring less labour, the products will remove the need for a detailed feasibility study and a bespoke design for schools.
The launch of the off-site solutions, which will be open for use by any UK firm or public body, comes as the Department for Education prepares to launch a framework between £2bn and £3bn that focuses on modular building.
The government, led by six departments party to an MMC working group, is looking to save money and encourage innovation in construction through a preference for off-site building in its procurement – expected to be reflected in the framework.
Crosby is one of two private-sector individuals who sit on the MMC working group, along with Bryden Wood director Jaimie Johnston.
The off-site products are due to be launched in April with Seismic currently working with suppliers to conduct fire safety tests on the frames and connectors.