Number of hospital trusts affected by unstable aerated concrete three more than previously thought
The roofs of dozens of hospital buildings in England are at risk of imminent collapse, the government has admitted.
Health minister Maria Caulfield said that 34 buildings had roofs containing reinforced autoclaved aerated concrete (RAAC), a lightweight material which was widely used from the 1960s to the 1980s and which has now passed its 30-year lifespan.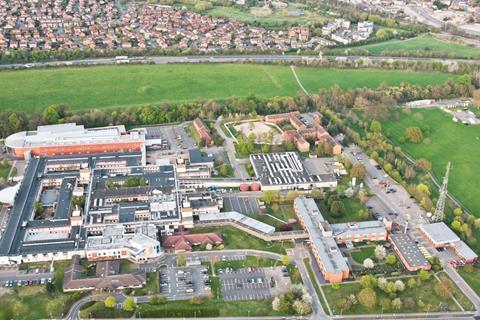 The issue was described as a "ticking timebomb" by the boss of one affected hospital, the Queen Elizabeth in King's Lynn.
It had been reported in 2020 that 13 hospital trusts were in need of repairs, but Caulfield has now revealed that 16 trusts are facing issues with outdated RAAC.
In a written answer to a parliamentary question asked by the Liberal Democrats' health spokesperson, Daisy Cooper, the minister said the NHS had identified the issues after conducting building surveys.
She said all affected trusts have employed structural surveyors to assess the condition of affected buildings. Ring-fenced funding of £110m has been allocated to "mitigate the immediate risk".
Trusts will receive a further £575m in the current spending review period, Caulfield added.
Although she did not identify the trusts, it has been reported that they include Airedale in Yorkshire, Frimley Park in Surrey, Hinchingbrooke in Cambridgeshire and West Suffolk Hospital in Bury St Edmonds.
The roof of the Queen Elizabeth hospital is currently being propped up by some 1,500 supports.
The hospital's chief executive Caroline Shaw told the Sunday Times in July that the roof is like a "chocolate Aero bar" and said it is being checked daily to ensure it does not collapse.
Last year, patients were evacuated from the hospital's intensive care unit and moved to other facilities amid fears that the roof would come down.
RAAC was used primarily in public sector projects including offices and schools, but has long been recognised to have limited durability.
In the 1990s and in 2002, the Building Research Establishment warned of hairline cracks which could develop in RAAC roof planks which could lead to sudden collapse.
An advice note by the Local Government Association in 2020 warned that the issue may be "more serious than previously appreciated" following two roof failures which happened with "little or no warning", including one at a school in 2018.
What is RAAC?
Autoclaved aerated concrete (AAC) is different from normal dense concrete. It has no coarse aggregate, and is made in factories using fine aggregate, chemicals to create gas bubbles, and heat to cure the compound. It is relatively weak with a low capacity for developing bond with embedded reinforcement. It was used in two main forms of structural elements; lightweight masonry blocks and structural units (such as roof planks, wall and floor units).
When reinforced (Reinforced AAC: RAAC) to form structural units, the protection of the reinforcement against corrosion is provided by a bituminous or a cement latex coating, which is applied to the reinforcement prior to casting the planks. The reinforcement mesh is then introduced into the formwork and the liquid AAC mix added.
Source: SCOSS