Energiesprong UK looks for construction firms to build demonstration projects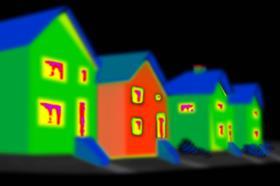 The organisation bringing the Dutch version of the Green Deal over to the UK is looking for contractors to help it trial zero carbon retrofits.
Energiesprong UK, the UK version of the Dutch programme that is rolling out over 100,000 net-zero energy refurbishments in the Netherlands, has launched a procurement process for a contractor to build 10 demonstration projects in Nottingham.
It comes after housing associations Affinity Sutton and Moat won £1.4m in EU funding for the retrofits in June.
Speaking to Building, Energiesprong UK programme director Arno Schmickler said the first projects are expected to be contracted in January or February next year and should be complete by April.
Schmickler said the organisation is looking for traditional contractors to do the work initially, but could look to other types of firms for projects further down the line.
Energiesprong UK has secured approval for another 15 demonstration projects in Devon, which it aims to have completed by early autumn.
Schmickler said: "We are looking for construction companies in the first place, as they have the capacity, resources and balance sheet to invest in R&D, but down the line there will be opportunities for new market entrants."
The government-supported Dutch scheme works similarly to the UK's failed Green Deal and involves wrapping an existing building in a prefabricated system of wall and roof panels to increase its energy efficiency.
Potential replacements for the Green Deal - which was cancelled by the UK government last July - will be recommended by the forthcoming Bonfield Review, which has been completed by BRE boss Peter Bonfield but is waiting for ministerial sign off.
In addition to the trial projects, Energiesprong UK is continuing to work on a volume deal for retrofits on 5,000 homes.
But Schmickler admitted the "less favourable policy environment" towards energy efficiency in the UK has meant housing associations want to see example projects built before the scheme is given a wider roll-out.
He added: "We're seeking pledges from housing providers, but they're keen to see the first solutions before committing to more homes."
Retrofits under the Dutch Energiesprong can cost between 55,000-60,000 euros per unit, but this also includes the price of a new kitchen and bathroom. The installations are also completed within a week and don't require occupiers to leave their homes.
Individual installations on the UK scheme could initially cost up to £80,000, but volume deals to retrofit entire streets could lower the cost to between £35,000 - £40,000 per building.