ONS figures show surprise drop in March, contrary to other trade surveys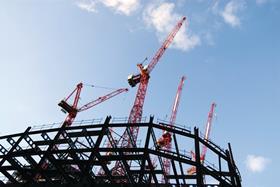 UK construction output took a surprising dip in March, falling by 3.6% compared to February, according to the latest ONS figures.
Output also fell by 4.5% compared to one year earlier, while activity in the first quarter of 2016 as a whole was 1.1% lower than the fourth quarter of last year and 1.9% lower than a year ago.
However, economists have cast doubt on the figures, with other trade surveys showing an increase in construction output.
Richard Threlfall, head of infrastructure, building and construction at KPMG, said he doesn't believe the figures are accurate.
He said: "Apologies ONS, but I just don't believe today's output figures. They don't ring true with what the industry is experiencing on the ground, with strong demand across all segments and growing order books.
"Yes, the housing sector had a weaker than expected start, but is warming up nicely in the spring sunshine, and the civils market remains very strong thanks to pipelines of activity in road and rail. Sweepstake, anyone, on how long before we see an upward revision of the numbers?"
Noble Francis, economics director at the Construction Products Association, called the figures "disappointing".
He said: "Contrary to today's report, all other surveys of activity across the entire construction industry supply chain, from the largest contractors to the smallest SMEs, have reported an increase in activity during the first quarter of the year compared to the previous quarter and the previous year, albeit at a slower rate than previously."