Shadow chancellor promises clear direction to inspire investment in energy infrastructure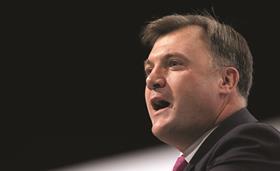 Shadow chancellor Ed Balls has attacked George Osborne for "scaring away" green investment in infrastructure and energy efficiency.
His words come amid increasing concern from industry chiefs and policy makers that uncertainty over support for renewable energy projects, new nuclear power stations, and incentives for the Green Deal is holding back investment.
Recently the government's independent climate watchdog the Committee on Climate Change called for the introduction of incentives to boost the Green Deal and in May it said uncertainty over green power policy was "undermining electricity market reform".
Boosting the Green Deal is a key element in Building's Green for Growth campaign.
Writing in the New Statesman this week, Balls said a Labour government would make sustainable energy a "major national priority".
He said: "Investment and reform depends on leadership from government. And time and time again I hear from business and green campaigners alike that this leadership is currently absent."
He said that on energy efficiency the government had "failed to deliver".
He said: "The construction industry is crying out for clarity on the next steps in Labour's successful zero-carbon homes strategy. The Green Deal, which replaced previous successful domestic energy efficiency schemes, has so far helped just four households this year. "
Plus, he said the Green Investment Bank had been "shackled" by the government's requirement that debt be falling as a percentage of GDP before the bank can borrow on the open market.
He added: "George Osborne has fostered exactly the kind of policy uncertainty that scares away long-term investment. By talking up the possibility of an implausible shale gas bonanza to justify tacking away from renewables after the 2020 targets run out, he has cast further doubt on the government's long-term commitment to a low carbon future."
Ball's comments follow a report by campaign organisation Green Alliance, which concluded green projects made up £180bn of the government's infrastructure pipeline.