Children join teachers and politicians in Westminster to march against the axing of BSF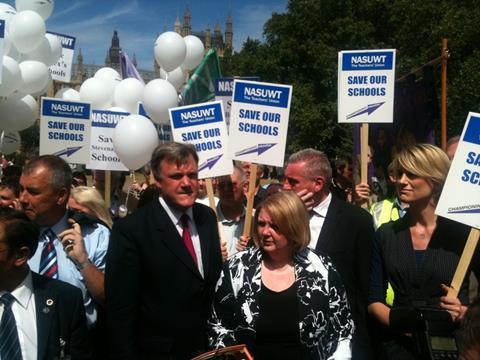 Teachers, pupils and construction workers protested in central London today over the government's cancellation of the £55bn Building Schools for the Future scheme.
Hundreds of protesters gathered at Westminster's Methodist Central Hall to hear speeches from Ed Balls, the shadow education secretary, and teachers affected by the cuts.
Headteachers spoke of rundown classrooms and crumbling schools, while Balls and TUC Secretary-General Brendan Barber attacked the coalition government for "sabotaging a badly-needed" programme.
Ed Balls told Building he was very concerned for the future of the construction industry after the cancellation of BSF.
He said: "At a time when there's not a lot of private capital investment going on, [BSF] was a lifeline for the industry. I think it was economically very sensible to carry this on, and economically very foolish of the government to be cutting it."
Following the speeches, protestors marched to Parliament to lobby MPs as debate began in the House of Commons over the Academies Bill.