Energy giant tells suppliers it is close to releasing budget for £18bn Hinkley Point C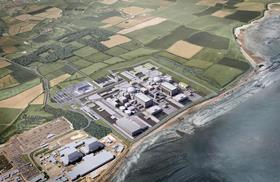 Contractors on the £18bn Hinkley Point C nuclear power plant have been told to start spending money as client EDF says it will be releasing its budget imminently.
Sources close to the project have told Building EDF has instructed suppliers on the Somerset power plant to restart "unconstrained spending" on the scheme, despite the fact a final investment decision has yet to be made.
A source told Building: "EDF used the words 'unconstrained spending' to the supply chain to get the project moving. By 'unconstrained' they mean 'we're going to go on as if a decision has been made.'"
Another source said: "EDF asked us, 'if we release the budget to you, what will you do with it?'. We told them what we would do with it, and they said 'get your plans ready to start spending this'."
One of the sources suggested the delay in EDF making a final investment decision on Hinkley could be due to legal issues, in addition to the widely reported issues in funding in the project.
Despite the delays, a market source said suppliers - which include heavyweight contractors Kier, Laing O'Rourke and Bouygues - will already be "gearing up" to deliver the work following the instruction from EDF.
The source added: "The indications [EDF is] giving suggest they just want to get on with the project. They haven't secured any additional funding. They're telling people to get on with it now and hoping they can fix the balance sheet later."
Enabling contractors Kier and Bam will be the first to start on site should a decision be made on Hinkley.
EDF declined to comment.