Hardies buys Binnie-McKenzie to target more work in city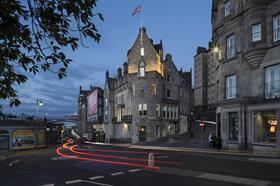 Edinburgh multi-disciplinary Hardies has snapped up Glasgow QS Binnie-McKenzie Partnership for an undisclosed sum.
Hardies, which has been going since 1913, has 10 offices north of the border and employs 80 people.
The firm, which last year completed work turning a grade B listed building (pictured) on the Scottish capital's Cockburn Street into the new headquarters for the Royal Edinburgh Military Tattoo, said it had moved for Binnie-McKenzie to target more QS work 40 miles down the M8.
Hardies partner Murray Warner said: "In Glasgow we have a team handling surveying but not cost consulting so we were servicing jobs there from Edinburgh. We want to grow that business in Glasgow and it's difficult to build it one person at a time. Binnies is a well-known name and well regarded."
Binnie-McKenzie, which was set up eight years ago by Stewart Binnie-McKenzie, employs five people and will retain its name for the next 12 months before being rebranded Hardies. It has a fee income of £500,000.
Two years ago, Hardies merged with Scottish surveyors Shepherd, which has more than 30 offices in the country, to create a 350-strong business with a turnover of £25m.