Inquiry to be chaired by senior figure who "commands respect" in construction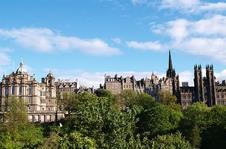 Edinburgh city council will launch an independent inquiry into the building defects which forced the closure of 17 PFI schools across the city.
It comes after a report from the council's corporate policy and strategy committee into the construction problems called for an inquiry, with an independent senior figure to chair it.
The 17 schools, operated by PFI consortium Edinburgh Schools Partnership, were closed from April to repair storm damage.
The first three schools - Oxgangs Primary, St Peter's and Braidburn - are expected to re-open on Tuesday, with four more next month. But the remaining ten will not re-open until August.
Edinburgh council leader Andrew Burns said the inquiry will not begin until all of the schools are re-opened and that he expects the inquiry will take a "matter of months".
He said: "We want and deserve answers as to how this has happened – as do parents across the city."
He added it was "important we have an independent chair for this inquiry; one who commands respect within the construction industry."
The report into the building defects said investigative works on the Oxgangs Primary School – the first PFI schools where problems were identified – showed that a construction problem with wall ties was the main reason one of its walls collapsed.
Subsequent building surveys on all 17 of the PFI schools revealed the same problem.
The report added: "Early indications are that this remains a construction quality matter as opposed to one relating to a design defect or the operating model employed."
A joint venture between Amey and Miller Construction – bought by Galliford Try in 2014 – built 13 of the 17 schools. The remaining four were built solely by Miller.
Construction started in 2001 and was completed on all schools by 2005.
The inquiry into the schools saga will start after the summer holidays.