Scheme will see route extended from Edinburgh airport to Newhaven on the coast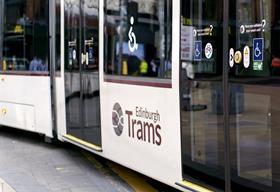 Edinburgh councillors have pushed back the deadline for making a final decision on whether or not to proceed with a £165m tram scheme until March next year.
A decision had been due by the end of the year with a contract set to be signed with the winning bidder before Christmas.
Tenders for the project, which would complete the route which was downscaled in 2011 following massive cost overruns, were received in early September.
Four bidders, BAM Colas Rail JV, Dragados, Farrans Sacyr Neopul JV and Sisk Steconfer JV, were shortlisted for the 4.6km extension in March.
The Scottish capital's tram scheme, which was expected to see a line running from Edinburgh airport to nearby Newhaven on the coast before it doubled in cost to £1bn and halved in length, would finally be complete if the council gives plans the go-ahead.
Back in 2011 Turner & Townsend was parachuted in to take over the project once it became evident the scheme was at crisis point.
The final stage in this process is to seek best and final offers from the bidders and to clarify specific elements of the bids received, which will then be used to complete the final business case for consideration by councillors.
Cllr Lesley Macinnes, transport and environment convener, said: "We have adopted a very thorough and robust process for the Trams to Newhaven project throughout, learning crucial lessons from what went wrong previously.
"We have been very clear from the outset that we will not bring forward the final business case until we have vigorously tested the cost and time estimates with the market."
The Newhaven line is expected to carry 14 million passengers in its first year of operation.