277 schools to be upgraded in programme that attracted more than 1,000 applications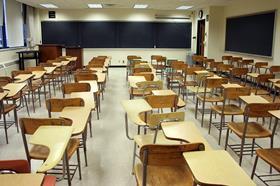 Priority Schools building work worth £2bn unveiled by the government this week could be delivered through a mix of central and locally-managed procurements, under options being considered by the Education Funding Agency.
The government announced this week that about £2bn would be spent on upgrading 277 schools in the second wave of the Priority Schools Building Programme (PSBP). The government also said that a further £4bn would be allocated outside of the PSBP between 2015-18 to allow schools, local authorities, academy trusts and voluntary aided partnerships to improve the condition of school buildings.
The funding will go some way towards addressing the condition backlog of England's school estate, with summary findings from the government's Property Data Survey this week revealing that 95% of school buildings surveyed required some level of improvement. Building understands that over 1,000 schools applied for inclusion in the second wave of PSBP2, highlighting the level of demand for funding.
The first wave of PSBP work, which includes 260 schools, has been procured through a mixture of PF2 funding and frameworks managed by the EFA. However, Mike Green, the EFA's head of capital, confirmed this week that the second wave, which will be focused around blocks rather than whole schools, would be directly funded rather than use PF2.
He also said that the EFA was looking at "local delivery" options, alongside its own frameworks, in a move which would open up work to contractors on local and regional frameworks. He said: "We are looking now at the appropriate type of procurement. We are open to more of a mixture; to doing things in a slightly different way."
The EFA is currently tendering for consultants to carry out feasibility studies on the schools included in the programme.
The Property Data Survey Programme, which was used to inform decisions on the schools included for funding, surveyed 18,830 schools, representing 85% of the school estate. Schools that had been built or modernised since 2004 were not included.
The schools included 59,967 blocks, with 5% of these having all records graded A, meaning they had no condition need. Buildings constructed between 1945-1966 had the greatest need for improvement. Regionally the greatest need per square metre was found in the east of England.
Commenting on the announcement, Mark Robinson, chief executive of procurement body Scape, said: "The current landscape is one of increasing demand for places set against a backdrop of restricted budgets, which creates a very challenging environment for education providers. The £6billion of extra funding and the Education Funding Agency's welcome decision to open up the procurement options will significantly alleviate this pressure.
"By apportioning out the task ahead and allowing clients to explore a range of delivery options we can collaborate together to provide educational authorities with innovative, high quality, efficient solutions and the classroom spaces that are both desperately needed and absolutely essential for helping our children to learn and develop."