Over three quarters of firms shrink or stand still in third quarter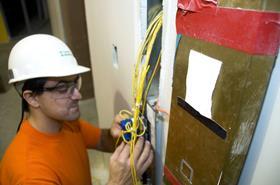 Electrical contractors continued to suffer in the third quarter of this year, with over three quarters of firms reporting turnover dropping or standing still.
The Electrical Contractors' Association (ECA's) quarterly business trends survey found 33% of electrical contractors shrunk over the period, while 45% reported no change on the previous quarter's figures.
Businesses with a turnover of up to £200k per year were the worse hit, with 42% reporting a decrease in turnover and 44% reporting no change.
Over three quarters (77%) of firms predict revenue will stay the same or fall in the next 12 months.
The survey results come after a dismal year for the electrical contracting specialist sector, with several high profile casualties, including MJN Colston, Airedale and three divisions of the Rotary business.
Steve Bratt, chief executive at the ECA, said: "Life in our sector is still tough, as more and more firms compete for less work, and projects with smaller profit margins.
"The £5bn investment in infrastructure and the launch of PF2 mentioned in the Autumn Statement will, I hope, lead to a resurgence in the healthcare and education markets; two key areas of income for construction. However, we need something which will give the industry a boost now."