Energy secretary Ed Davey slaps down junior minister who suggested 'enough is enough' on turbines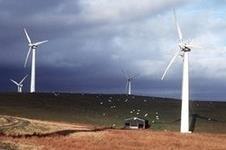 Energy and climate change secretary Ed Davey has insisted there is no change in government policy on wind farms, despite one of his junior ministers saying he was building a case against onshore wind farms.
Davey, a Liberal Democrat, put out a statement saying onshore wind farms had "an important role to play in our energy future" after reports in the Daily Mail and Daily Telegraph this morning suggested the government was planning to withdraw its support for onshore wind turbine construction.
Conservative energy minister John Hayes told the Mail wind farms had "peppered" the UK countryside and "enough is enough".
He said he'd commissioned research on the impact of wind turbines on the landscape, house prices and noise levels.
Davey confirmed the department was "consulting on ways of making sure local communities feel the benefit of hosting wind farms" but rejected the suggestion this marked a change in policy.
Davey also rejected Hayes' assertion that there is a review looking at the impact of wind farms on property values.
Davey said: "There has been no change to government policy on renewable energy, as collectively agreed by the coalition cabinet.
"Onshore wind is one of the cheapest renewables, which is why we've been able to cut the subsidy."