Environment Agency bosses say defences "didn't fail"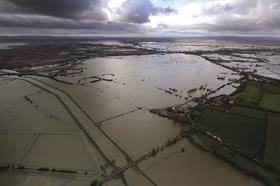 The Environment Agency has defended its response to the recent floods, claiming flood defences "didn't fail" and were "tested beyond their design".
Giving evidence to MPs on the Environment, Food and Rural Affairs Committee, the agency's chairman Sir Philip Dilley said flood defences "didn't fail", but were "tested beyond their design" and "quite often overtopped".
He added: "They protected properties against flooding that would have occurred had they not been there, and most importantly they gave a little more time for people to rescue precious possessions and to get out. They undoubtedly saved lives."
Environment Agency chief executive Sir James Bevan said the agency was giving enough priority to flooding, and said he spent "half our budget on managing flood risk and protecting people from flooding."
The government has been scrutinised over its level of flood spending, promising to spend £2.3bn over the next six years on flood defences.
However, the agency needs an additional £600m – which it has to find from external sources – to meet its target of protecting 300,000 homes from flooding.
Dilley said the government funding will give the Environment Agency "the ability to be more efficient in the way we let contracts."
He added that the environment agency will look to developers and infrastructure providers to help it raise the extra money needed.
Dilley said: "If a developer wants to develop somewhere that's currently subject to flood risk, if a scheme can prevent that from being subject to flood risk, there is a potential benefit for him to pay into the scheme."
He added: "If Network Rail needs to raise a line to make it flood resilient, then maybe they can put money into something we can do jointly."