Berry says industry needs to crank up pressure on government over issue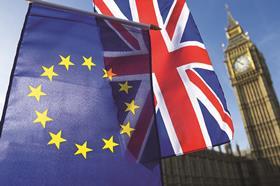 EU construction workers waiting to learn their fate feel like pawns in the Brexit debate, according to Federation of Master Builders chief executive Brian Berry.
A week after the construction industry released its Brexit manifesto, Berry said the sector was waiting for government response on a number of key issues.
"Allowing EU workers settled status is important. There is a lot of uncertainty we are picking up from EU workers about their future. They feel as if they are being used as a bargaining tool or are not being made to feel as welcome in the UK," Berry said.
"The sooner we get clarity about their position and settled status the quicker we can provide that reassurance."
He said the other key area the industry was waiting to receive feedback on was the criteria for migrants post-Brexit.
Berry said: "We need to make sure the criterias for future EU workers coming into Britain are for key occupations not just income or skill sets. It can't just be based on income and skills it should very much be based on key occupations. We need to look at jobs that are needed in the construction industry rather than the generic 'how much money have they got before they come into the UK?.'"
The Brexit manifesto was a landmark initiative for the industry as it was the first time the entire construction sector united to address an issue, Berry said.
He added: "This is the first time that the entire construction industry has come together to sign up to a manifesto on a particular issue and that just shows the seriousness of the problem of the growing skills crisis in the building industry. My message to the construction sector is let's hold together on this, let's make sure the recommendations in the manifesto are being properly addressed by government and let's just hold the line. It proves when needed the construction industry can speak with one voice."
Last week, Lord Stunell, the Liberal Democrat peer behind a review into the impact of Brexit on the construction industry, warned the government has still not grasped the seriousness of the impact on labour when the UK leaves the EU.
"Parliament's constantly urging the government to build more houses, more hospitals, build more this, build more that, but I don't think there is quite the connection that at the minute there won't be a construction industry that's capable of delivering that," the former building regulations minister said.