MPs hit back at former Carillion finance boss Richard Adam over claims he was misrepresented in report on collapse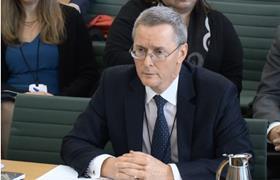 The MPs behind the inquiry into Carillion's collapse have taken another swipe at former Carillion finance director Richard Adam.
In a statement published after the release of their findings from the inquiry, MPs refused to back down on conclusions they had drawn on Adam's role in the collapse.
Adam (pictured), who along with ex-chief executive Richard Howson and chairman Philip Green bore the brunt of the MPs ire, took issue with the MPs' comments.
He said: "Despite retiring over a year before Carillion went into insolvency, I am deeply saddened by the events that have since overtaken the company.
"The reasons for the collapse are clearly complex, however, I reject the unwarranted conclusions the committees have reached concerning my role at the company.
"I have objected to the committees about quotes that they have misattributed to me. I look forward to contributing to the due process and conclusion of the various investigations that are still ongoing."
The quotes in question centre on Adam's attitude towards funding pension scheme, with the former finance director saying he never said pension schemes were a waste of money and that these words were instead Carillion Pension Trustee Robin Ellinson's opinion of Adam's view on pensions.
In a letter to the committee, which has been made public, Adam wrote: "The report, in a number of places, states that I considered that payments into Carillion's pension schemes were a 'waste of money', and appears to directly attribute these words to myself. This is a mischaracterisation of the evidence and should be rectified in the report.
"In particular, all references should make clear the true position that Mr Ellison was expressing his opinion of what my views were, and not asserting that I had, or had expressed, such views."
But MPs have fired back, saying while they could not guarantee Adam's said those exact words his attitude towards pensions was undeniable.
A statement from the MPs said: "The committees cannot of course assert that Mr Adam said those precise words in 2013, but have accepted the characterisation in the contemporaneous note by the trustees' lawyer. That attitude was reflected again in his evidence in Parliament on 6 February 2018, and further supported by analysis by the scheme's covenant assessors, Gazelle Finance.
"These, taken alongside his actions as finance director throughout, led the committees to the inescapable conclusion that he considered funding the Carillion pension schemes to be a waste of money. He consistently and resolutely resisted pleas from the trustees for more adequate deficit contributions.
"This was entirely in keeping with the Carillion board's short-termist, cash-chasing, dividend-plumping approach."
The findings from the inquiry, which was run by the business and work and pensions select committees, were published last week.