Construction output will grow by just 2.6% this year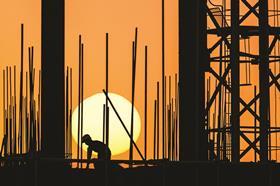 Finance house Experian has downgraded its forecasts for construction output for the next three years, according to the latest published data from the firm.
The firm said today it now expects total construction output from all work to grow by 2.6% this year, a 1 percentage point reduction on the figure it predicted just three months ago. In addition the firm said in October 2015 output would grow by 4.3% next year, but now predicts growth of just 3.9%, with output reaching £142bn in 2017. Now the firm says output then will be just £139.6bn.
The news follows six months of slowing output in construction, including a number of month-on-month falls in work.
Last Friday the ONS reported that construction output decreased by 0.5% in November 2015 compared to October, on the back of a 0.7% drop in all new work and a 0.2% fall in repair and maintenance.
Experian said public housing will continue to perform poorly with an 8% reduction in growth for 2016 with the extension of Right to Buy to housing associations and the annual rent reductions for the next five years expected to impact on balance sheets making them "less attractive" to investors.
"Fairly moderate" growth is expected in the private housing sector going forward - 5% growth in 2016 and 4% in 2017 - as acute labour shortages impact on housebuilders' ability to raise volumes, the firm said.
The changes to stamp duty are also expected to take "steam out" of the sector and following consolidation during the recession there are fewer small and medium sized builders to push volumes forward.
Growth is still expected in commercial construction as the office market remains buoyant due to a lack of Grade A space leading to a return to more speculative building, Experian reported.
However, it has revised its October forecast of 7% growth in 2016 to 4% and is also only predicting growth of 5% in 2017 following a "disappointing" 2015, which saw falls in retail output.
The forecast for retail remains mixed, but leisure is understoon to have a good pipeline of work for the forecasted period to 2017, including the £2bn London Paramount Entertainment Resort in north Kent which is scheduled to start winter 2017.
Following a massive 11% of growth in 2015, more moderate growth of 7% in 2016 is foreseen in the industrial construction sector, Experian said.
Meanwhile infrastructure is predicted to be the strongest performing sector over the next three years - so long as there is no "slippage" on nuclear new build - on the back of projects such as the Thames Tideway that starts this year, Hinkley Point in 2017 and HS2 in 2018.
Infrastructure output is forecasted by the firm to hit a record high of £22bn by 2018.
Elsewhere total repair and maintenance, which saw a 1.3% fall in growth in 2015, is expected to return to slight growth again for 2016.