As testing continues on 600 towers, questions arise over whether the right criteria are being used for the flammability tests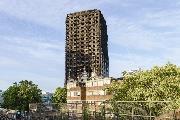 Experts have queried whether the tests being carried out by BRE to establish the flammability of external cladding on local authority tower blocks serve any useful purpose.
BRE is carrying out the tests on behalf of the communities department in the wake of the Grenfell Tower fire in west London where 80 people are thought to have lost their lives.
Fire safety tests were ordered on 600 towers in the wake of last month's incident and earlier this week communities secretary Sajid Javid said 181 towers in 51 local authority areas had failed – a 100% fail rate.
But Martin Conlon, the chair of the Building Control Alliance, the body that represents all the organisations involved in building control in England and Wales, said the test was "not particularly useful in the grand scheme of things" and that it was instead a knee-jerk reaction to the disaster.
"Rather than sitting back and taking a long, hard look at this [the authorities] are thrashing around and creating mass hysteria," he added.
The test, which is being coordinated by BRE at its premises near Watford, is also being carried out by a number of universities for BRE.
Conlon added: "They are not doing a British Standards test, they are simply doing a flammability test on the core of the cladding panel."
And Alan Keiller, the principal engineer at the Centre for Window and Cladding Technology, said the tests were "a waste of time" because Part B doesn't set out limited combustibility requirements for rainscreen cladding panels.
Part B only stipulates insulation and filler materials must be of ''limited combustibility'' but Keiller added: "Most people wouldn't take that as applying to a cladding panel".
The tests are being carried out on buildings suspected of being clad with aluminium composite material (ACM) panels.
ACM panels feature two thin aluminium skins sandwiching a cheaper core material that gives the panel its rigidity and keeps costs down.
The panels used for the external rainscreen on Grenfell Tower were a product called Reynobond, which features a plastic core.
The test was devised by an independent panel of experts on behalf of the communities department and performed on the core of test samples after the external aluminium skin had been removed from the panel.
The test has three categories, with a category 2 or 3 rating deemed by the expert panel to fail the limited combustibility requirement in Part B, the building regulation covering fire.
The BRE said the tests were in line with building regulations guidance. It said either all the individual external wall materials including rainscreen panels had to be classified as "of limited combustibility" or a cladding system could be subjected to a large-scale test to check for compliance with Part B.