Chancellor announces need for 30 gas power plants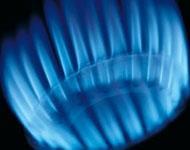 Industry leaders have warned that government plans for the construction of up to 30 new gas fired power plants, under its new gas strategy, threaten its carbon and energy targets.
Chancellor George Osborne unveiled the government's gas strategy alongside today's autumn statement.
He said he wanted the UK to make "best use of lower cost gas power".
"We don't want British families and businesses to be left behind as gas prices tumble on the other side of the Atlantic," he added.
The government estimates there will be a need for 26GW of extra gas generating capacity by 2030 - the equivalent of 30 new plants.
Some of the 30 new plants will be created by modernising existing power stations.
Osborne also announced new tax breaks for gas developers and that the government was establishing of an Office for Unconventional Gas and Oil to encourage the development of shale gas.
Energy secretary Ed Davey said the government's support for gas plants was "not new" and was "consistent with meeting our legislated carbon budgets and with significant decarbonisation of the power sector".
He added: "Gas will provide a cleaner source of energy than coal, and will ensure we can keep the lights on as increasing amounts of wind and nuclear come online through the 2020s."
But Paul King, chief executive of the UK Green Building Council, said: "George Osborne's obsession with gas not only makes a mockery of our legally binding carbon targets, it makes for a stark comparison with his stubborn refusal to exploit the potential for energy savings in our homes and buildings."
Alistair Smith, chair of the Institution of Mechanical Engineers' power division, said the support for gas was a "sensible" medium term option.
But he added: "It is important to acknowledge that climate change is still an issue and that gas is a fossil fuel.
"This announcement reinforces the need for more investment, research and development into Carbon Capture and Storage – a technology which could, in future, be retrofitted onto gas plants to prevent emissions entering the atmosphere."
Mike Pigott, UK power sector director at consultant Turner & Townsend, said gas power stations could only ever be a "stopgap" measure but would provide a "welcome boost" to the economy.
He added: "It will be a vital part of Britain's future energy mix, but alone it will never be enough to ensure the lights stay on."
Thomas Heldgaard, Managing Director, Rockwool UK, said the government should focus more on energy efficiency while the UK had one of the "most inefficient housing stocks in Europe".
He added: "We would have liked to see a greater focus on making Green Deal home makeovers more attractive to consumers, rather than just a dash for new gas capacity."