Parliamentary event next month to mark report's first birthday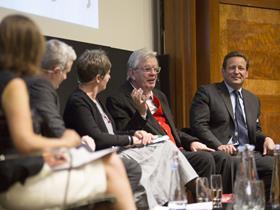 Terry Farrell has said that his Farrell Review is delivering benefits as the initiative prepares to mark its first birthday next month.
Architecture minister Ed Vaizey, who asked Farrell to look at the industry and the wider built environment, will host an event at Parliament next month to celebrate the report's publication and list what it has achieved in the 12 months since it came out.
Among the schemes that Farrell has cited as a success is the development of urban rooms where local communities can find out about an area's past and future.
Farrell added: "Over the past few months we have been working hard to ensure that the review remains high on the agenda of both policy makers and the industry at large. From the many urban rooms that are rapidly multiplying up and down the country to the establishment of the government's design advisory panel, the review is making an impact and sparking action."
A total of 16 towns and cities, including Cardiff, Leeds and Birmingham, are set to have an urban room following on from the initial pilot scheme at Blackburn.
Farrell said that plans are also being worked up to establish a 'Place Alliance' of practitioners from across the built environment professions, including planners, architects and engineers. This is being discussed in more detail at event at UCL later this month and is being led by Matthew Carmona, a professor of planning and urban design at the Bartlett.
Farrell said the organisation will "provide a powerful collective voice on questions of place quality" as well as increasing debate around improving everyday environments.
Vaizey has already responded to critics who claim the report won't achieve much in the long run and will end up as a limited talking shop.
At last year's Tory party conference, he said: "It's very important that this review doesn't become a lobbying exercise to government, saying that government has to do this or that. If you do that you've lost the point of the review. Developers should be very much part of this.
"Don't go down a cul-de-sac of government should do this, government should do that. The Farrell Review should be a movement, not a report."
In December, the government announced it was setting up a design advisory panel on housing which was immediately criticised by many as being dominated by old white males.
But Farrell, who sits on the panel, admitted a few days after the announcement that the panel "needed to be more balanced" and that the government should be making sure it "is as balanced as possible".
Source
This story first appeared on Building Design here.